According to reports, GoDaddy will not return to the IndyCar Series as a primary car sponsor but could still have, althought reduced, role with Andretti Autosport next year.
That could well mean that the Andretti squad will have to look elsewhere if it wants to find enough sponsorship to retain Canadian James Hichcliffe as a member of the team for 2014.
John Lopes, the team's senior vice president and chief marketing officer, said Tuesday night that GoDaddy will have a reduced role with the team next year if it has one at all.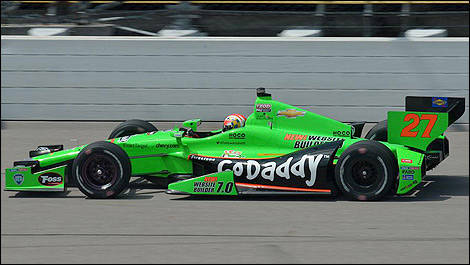 James Hinchcliffe. (Photo: IndyCar)
Lopes also said that "two or three" companies are interested in financially backing Hinchcliffe's car next season, but none of them have committed at this point.
As
Auto123.com
has already reported, Hinchcliffe is believed to be the target of other teams, too, including Ganassi Racing if it can secure sponsorship.
Andretti Autosport's objective is to have five full-time cars next season, preferably, besides Hinchcliffe, with drivers like Ryan Hunter-Reay, Marco Andretti, EJ Viso and rookie Carlos Munoz.