From press release
Canadian IndyCar driver James Hinchcliffe was diagnosed with a concussion, following an on-track incident, Saturday during the Grand Prix of Indianapolis.
This could compromise the 27-year-old's participation in the upcoming Indianapolis 500, as he is currently unable to drive and practice ahead of the famous event already started at the Brickyard.
Hinchcliffe's condition will be re-evaluated shortly by IndyCar medical director Michael Olinger to determine whether or not he will be fit enough to drive his No. 27 Andretti Autosport Dallara-Honda.
Former Andretti Autosport teammate EJ Viso will fill in if Hinchcliffe turns out to be unavailable.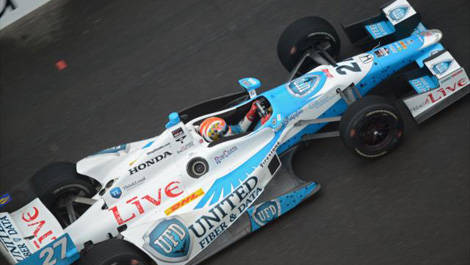 James Hinchcliffe (Photo: Walter Kuhn)
"I want to thank all the fans for their messages of concern and support," said Hinchcliffe.
"I'm a little stiff and sore and I'd love to be back in the car (already), but I suppose I should probably let the doctors make that decision. Such a bummer for the (United Fiber and Data) car when things were really starting to come together."
Qualifying ahead of the Indianapolis 500 are held May 17-18. The race is May 25.