Adapted from press release

Roger Penske's Team Penske announced Monday that Columbian driver Juan Pablo Montoya will join the team in 2014.
After having raced for Chip Ganassi for several seasons in the NASCAR Sprint Cup, Montoya, 37, will drive the No. 2 Team Penske Dallara-Chevrolet IndyCar for the full season, including the famed Indy 500.
The former Williams and McLaren Formula 1 driver will join Australian Will Power and three-time Indianapolis 500 winner, Brazilian Helio Castroneves in the team's IZOD IndyCar Series lineup beginning next season.
Montoya's career includes race wins in F1, NASCAR and the CART Indy Car Series. He is the only driver to produce victories in the Indianapolis 500, the 24 Hours of Daytona and the Monaco Grand Prix.
Montoya earned 11 IndyCar wins over two seasons as he captured the CART Series title in his rookie season of 1999 followed by a victory in the Indy 500 in 2000.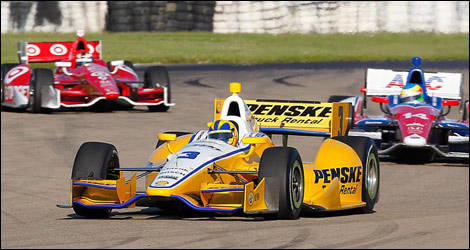 Helio Castroneves aboard the Penske Dallara-Chevrolet. (Photo: LAT for IndyCar)