From indycar.com
Verizon IndyCar Series competitor Mikhail Aleshin was released from Methodist Hospital in Indianapolis Tuesday to continue his recovery from injuries suffered in an accident during practice August 29 for the race at Auto Club Speedway.
"I'm feeling better each day," Aleshin declared.
"I'm very happy to be back in Indianapolis with my friends and the team. The doctors are taking very good care of me. Everything is going as planned with my recovery, and before you know it I'll be back behind the steering wheel."
Aleshin, who suffered a concussion, chest injuries, fractured ribs and broken clavicle, was transferred to Methodist from Loma Linda University Medical Center in Loma Linda, Calif., on September 9.
Following his transfer, Aleshin was evaluated by doctors, including INDYCAR medical consultants Dr. Terry Trammell and Dr. Kevin Scheid, and underwent a minor surgical procedure on his right shoulder.
Aleshin will remain in Indianapolis as he continues his rehabilitation under the consultation of the INDYCAR medical group. He is expected to make a full recovery.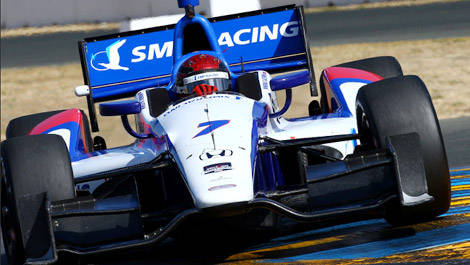 Mikhail Aleshin, Schmidt Peterson Motorsports. (Photo: IndyCar)