From press release
The strong relationship between Ryan Hunter-Reay and Andretti Autosport is showing no signs of weakening.
With Milwaukee IndyFest as a backdrop, the Indianapolis-based four-time IndyCar Champions confirmed that 2014 Indianapolis 500 winner Ryan Hunter-Reay will return to the team in 2015 and beyond.
Furthermore, Andretti Autosport announced a contract extension with title sponsor DHL
"I'm thrilled to be able to announce today that the relationship between myself, DHL and Andretti Autosport will continue," said Hunter-Reay.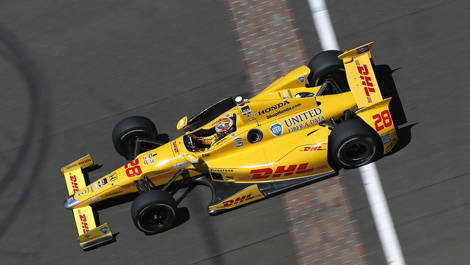 Ryan Hunter-Reay (Photo: WRI2)
"Every driver strives to find the stability in their career that allows them to continually grow each year; having a home at Andretti Autosport for the last five seasons, working with the same crew and supportive sponsors has no doubt been a key part of our successes."

Hunter-Reay, 33, currently sits third in the Verizon IndyCar Series championship points standings, only 63 points behind the championship leader.
With 166 Indy car starts, Hunter-Reay holds 14 race wins, 81 top 10 finishes and captured the 2012 IndyCar Series Championship title in a thrilling season finale showdown.