Simon Pagenaud, who won the inaugural Grand Prix of Indianapolis on the Indianapolis Motor Speedway road course May 10, caught everyone's attention May 14 on the 2.5-mile oval with the fastest lap of the month in practice for the Indy 500.
Pagenaud, driving the No. 77 Lucas Oil-sponsored car for Schmidt Peterson Hamilton Motorsports, recorded a lap of 226.122 mph in the session limited to 56 late-afternoon minutes because of rain and clean-up of the first on-track incident of the month.
"Obviously, the conditions are very good for a fast lap. The density of the air is a lot stronger so you can run in a little less wing for the same amount of downforce as (May 13) and that creates lap time and the engines work better with a stronger density in the air," Pagenaud said. "That's why you see big laps today. It's always enjoyable to get close to 230. Hopefully we can break that in qualifying."
JR Hildebrand, runner-up in the 500 Mile Race as a rookie in 2011, posted the second-fastest lap (225.854 mph) in the No. 21 Preferred Freezer car, while reigning Verizon IndyCar Series champion and '08 Indy 500 winner Scott Dixon was third (225.494) in the No. 9 Target Chip Ganassi Racing car.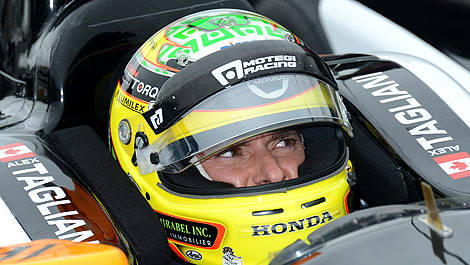 Alex Tagliani. (Photo: IMS)
Canadian Alex Tagliani was 15th in the No. 68 Sarah Fisher Hartman Racing car.
"We had a good session. We tried some new things, and it definitely worked out. It gives us a lot of data to analyze and get prepared for tomorrow. Slowly but surely we are getting to the point where we are working on the car as much for race trim while understanding things that we might need for qualifying. I'm pleased, but there's more to come," said Alex Tagliani.
Jacques Villeneuve was a lowly 27th in the No. 5 Dollar General Dallara-Honda.