The British track PFI did not disappoint lovers of beautiful races. The insolent domination of the Dutch driver Max Verstappen in the first round of the KF World Championship did not give any hope to his opponents, and removed the suspense of the final, but the Dane Nicklas Nielsen, however, had a day that made him one of the protagonists of the competition.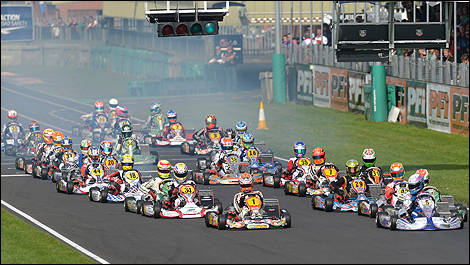 Départ de la finale. (Photo: CIK/KSP)
The British circuit, situated near the town of Brandon in Lincolnshire, hosted the first of two rounds in the CIK-FIA World Championship, reserved for the KF category.
Max Verstappen won the final in front of Nicklas Nielsen and Ben Hanley. Canadian Lance Stroll, driving a Zanardi-TM-Vega finished 5th, 5.032 seconds behind the winner.
For 14-year-old Lance Stroll, the youngest driver in the Ferrari Driver Academy, it was a very positive experience.
The second round of the world championship is scheduled for November 23 in Bahrain.