The completely redesigned Kia Forte 5-Door made its debut yesterday at the 2013 Chicago Auto Show. Longer, wider and lower than its predecessor, it really fits the hot hatch mould from across the Atlantic.
"The Forte 5-Door infuses European-inspired styling with the functionality and practicality of a hatchback, while also providing impressive performance with an all-new 1.6L turbo gasoline direct injection (GDI) engine," said Robert Staffieri, Marketing Director at Kia Canada Inc.
The Kia Forte 5-Door is available in two trim levels. The EX features a 2.0L four-cylinder engine that produces 173 horsepower, while the sportier SX gets a 1.6L turbocharged unit rated at 201 horsepower.
Full specifications for the Kia Forte 5-Door, including prices and fuel economy ratings, will be announced closer to its launch this summer.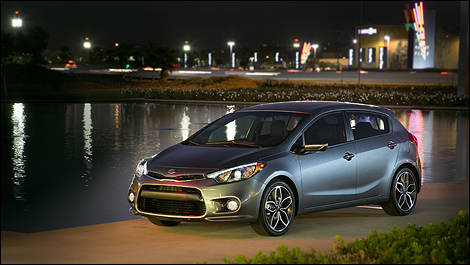 Photo: Kia