Press release
Source: General Motors

Detroit, Mich.
– GM and
OnStar
announce the use of OnStar's Stolen Vehicle Slowdown (SVS) service to help safely recover a 2009 Chevrolet Tahoe that was carjacked at gunpoint from a subscriber in Visalia, California. This is the first time that SVS has been activated to help a subscriber in a carjacking situation.
At approximately 3:18 a.m. PDT on Sunday, Oct. 18, Lindsay, California resident Jose Ruiz and his cousin were carjacked by a lone assailant wielding a shotgun. The perpetrator ordered the two men out of the vehicle, robbed them of personal belongings and sped off in the Tahoe.
Ruiz was able to flag down a police officer to report the incident. He notified them that his vehicle was equipped with OnStar, and requested that the Visalia officers leverage the service to help recover his vehicle.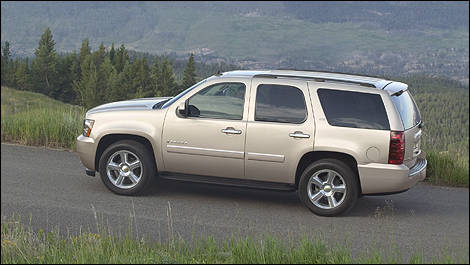 2009 Chevrolet Tahoe LTZ
Once OnStar advisors verified that the Tahoe had been stolen and that the subscriber had requested assistance, they were able to quickly locate the Tahoe and alert the Visalia officers of its location. They were also then able to initiate OnStar's newest stolen vehicle recovery service, Remote Ignition Block, to ensure that if the suspect stopped the vehicle before the officers were able to locate it visually, he wouldn't be able to restart it. Once officers had the vehicle in sight, they requested that Stolen Vehicle Slowdown be initiated. Once the vehicle had been safely slowed to a stop, the suspect then attempted to escape on foot, but was quickly apprehended by officers without incident.
Less than 16 minutes after OnStar was first contacted, Ruiz' Tahoe was safely recovered.
While obviously thrilled to have his vehicle back, Ruiz was even more pleased that no lives were lost and no one was injured in the incident.
Since launch in October of 2008, OnStar's Stolen Vehicle Slowdown service has been deployed 38 times in a wide variety of situations, including rental vehicles, thefts from dealers and on stationary vehicles in order to prevent a high-speed chase from potentially starting.
In 2008, 334 people were killed in the U.S. in crashes that resulted from police pursuits, according to the National Highway Traffic and Safety Administration. Stolen Vehicle Slowdown helps take high speed pursuits out of the equation, and reduces the chance that a subscriber's stolen vehicle will be crashed during a chase.

How Stolen Vehicle Slowdown Works
Once an OnStar subscriber has reported a stolen vehicle to law enforcement, he or she can call OnStar and request Stolen Vehicle Assistance. An OnStar Advisor will use advanced Global Positioning Satellite technology to pinpoint the exact location of the stolen vehicle which will be provided only to law enforcement.
Once law enforcement officials have the stolen vehicle in a clear line of sight to know conditions are safe, they can request that the OnStar Advisor remotely slow it down. OnStar will then send a signal to the vehicle's engine, reducing engine power and gradually slowing the vehicle to idle speed while all other vehicle systems, including power steering and brakes, remain fully operational.
OnStar has offered Stolen Vehicle Assistance services with GPS location since 1996. It now receives approximately 500 Stolen Vehicle Assistance requests from subscribers each month, and has helped in nearly 40,000 requests over the past twelve years. OnStar's suite of services also includes Automatic Crash Response, Emergency Services, Remote Door Unlock, Roadside Assistance, Crisis Assist, OnStar Turn-by-Turn Navigation, Hands Free Calling and OnStar Vehicle Diagnostics.
OnStar's Stolen Vehicle Slowdown was put into production in October of 2008 and is exclusively on GM vehicles in the U.S. and Canada. The service is included in the OnStar subscription that comes standard for one year on eligible Model Year 2009 and newer OnStar-equipped vehicles. Subscribers who prefer not to have the Stolen Vehicle Slowdown capability on their vehicle may contact OnStar to opt out of the service at any time. The rest of their OnStar services will remain active and unaffected.
photo:
General Motors