From Team Stange press release
Team Stange announced Wednesday the signing of Canadian native Maryeve Dufault as their driver for the 2014 ARCA Racing Series season.
Dufault is scheduled to pilot the No. 46 HotTVBrands.com Ford Fusion in all of the scheduled ARCA Racing Series presented by Menards events at tracks nationwide.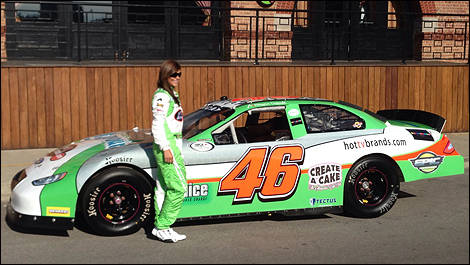 Maryeve Dufault, Team Stange (Photo: Team Stange)
"This is a great opportunity for me and a great team that has been formed for 2014 ARCA season," explained Dufault.
"I am very appreciative of the people that John (Stange) is bringing together for the No. 46 HotTVbrands.com car. There are some amazing guys that are running this program who bring a lot of knowledge and success to the table. I'm looking forward to a great season with Team Stange."
Team Stange, which was formed in 2004 by John Stange and his wife Ashely, is preparing for its' first season in ARCA racing.
Stange purchased the nine-time ARCA championship winning team and equipment of Larry Clement Racing at the end of the 2013 season and started making plans to field his team for 2014.
"2014 is going to be a great year for Team Stange Racing," said John Stange.
"I have been involved in racing in one way or another my entire life and it is so exciting when you have those times when things come together like they have for Team Stange. We're building a strong team and will give Maryeve competitive equipment and hopefully that combination will put the No. 46 at the front of the field."
In the integral role of crew chief/consultant for the No. 46, Team Stange has tapped veteran Larry Moore of Palatka, Florida.
Moore is one of the most successful short-track drivers in history with more than 500 race wins and experience at 356 different tracks. When he hung up his helmet as a racer, he began building a successful reputation as a crew chief/consultant for various ARCA, NASCAR Nationwide Series, CRA and dirt late model teams. Moore has more than 35 victories as a crew chief and is looking forward to adding to that number in 2014 with Maryeve and Team Stange.