The iconic Mercedes-Benz SLS AMG supercar is about to retire from the market with a limited production run of 350 GT Final Edition models. They will go on sale in March 2014 at a price that has yet to be determined.
Currently on display at the Los Angeles and Tokyo Auto Shows, the Mercedes-Benz SLS AMG GT Final Edition uses a 591-horsepower 6.3L AMG V8 engine to sprint from 0-100 km/h in four seconds and reach a top speed of 330 km/h. It rides on 19'' front and 20'' rear tires while making good use of a carbon fibre-effect hood with central air outlet, a carbon fibre front splitter, and a fixed carbon fibre rear spoiler.
Inside the Mercedes-Benz SLS AMG GT Final Edition, the centre console sports an "AMG FINAL EDITION - 1 of 350" badge, an Alcantara-trimmed AMG Performance steering wheel, and sport seats that feature an embossed AMG emblem on the head restraints.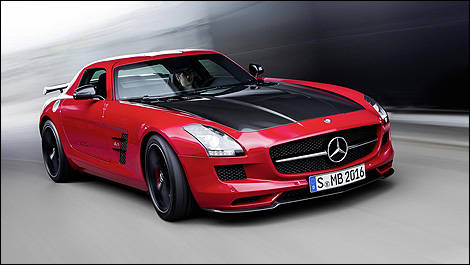 Mercedes SLS AMG GT Final Edition. (Photo: Mercedes-Benz)