Superleggera Vision concept will be on display as well
The all-new MINI 5 Door, a first in the company's history, will make its global debut on Thursday at the Paris Auto Show.
Set to become the 8th model in the lineup, it rides on a 72mm longer wheelbase and is 161mm longer overall, providing more interior room for passengers and their luggage. In fact, the 278-litre trunk is 30% larger than the regular 3-door Cooper's. Once the seats are folded, cargo capacity increases to 941 litres.
The
MINI 5 Door
boasts a sporty stance emphasized by a character line between the front and wheel arches. The cabin, meanwhile, features standard sport seats, electronic driving aids, and a modern infotainment system.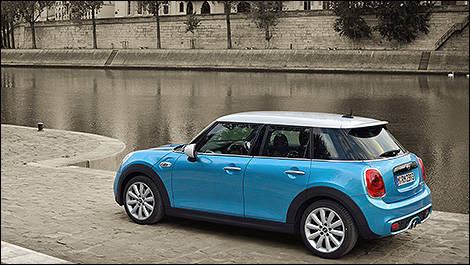 Photo: MINI
MINI Superleggera Vision
Also on display at the Paris Auto Show, the MINI Superleggera Vision concept is a compact roadster with electric drive, typical British styling, and a bit of Italian flair. Inside are classic materials such as aluminum and leather, not to mention the black chrome finish on the centre console.
The uniquely styled taillights will turn heads with their Union Jack-inspired design, but probably not as much as the bold-looking fin mounted on top of the trunklid.
Source: BMW