The MINI Inspired by Goodwood special edition is on display in a front window at London's famous Harrods department store. Taking inspiration from the design team at Rolls Royce, the car is touted as MINI's "most ambitious and luxurious" special edition to date.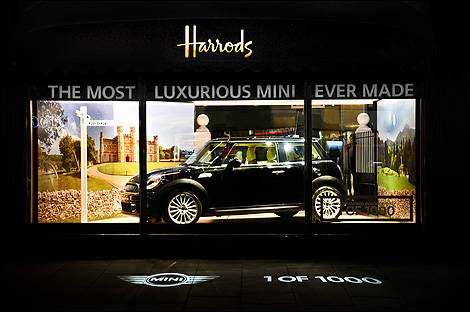 Photo: BMW
Brompton Road passers-by will see a quintessentially English manor house and gates as a backdrop to the MINI. Inside the store, display screens provide information and a selection of swatches and samples are available to show off interior trims. A MINI staffer from the brand's Park Lane flagship showroom is on hand in case shoppers get the itch to order.
The Goodwood features a dashboard, centre console, air vents, carpets, heated leather seats, roof lining, doors and interior cladding finished in Rolls-Royce's exclusive colour Cornsilk. The dashboard and door handle surfaces are Walnut Burr, a premium, custom Rolls trim.
The exterior is finished in Rolls Royce's Diamond Black metallic.
The phrase "1 of 1000" will be projected onto the pavement outside the store window, and the whole works on display until Sunday.