In an effort to kill the momentum of its closest competitor, the Nissan Micra, Mitsubishi Canada is offering a new $2,500 buyer incentive that will drop the base MSRP of its Mirage subcompact car to $9,998.
The announcement came during the latest Mitsubishi Fuel Economy Challenge, where Michael and Marina Sturrock from Laval, Quebec, averaged a remarkable 4.0L/100km – about 10% better than Natural Resources Canada's EnerGuide rating (4.4L/100km).
"Our customers love the Mirage. The results of the Fuel Economy Challenge and the new $9,998 price point confirms Mirage is the best automotive value in Canada," noted Stéphane Lessard of Mitsubishi's top-selling Canadian dealership, Rallye Mitsubishi in Gatineau.
The Mitsubishi Mirage comes standard with seven airbags, 14" wheels, front disc brakes and rear drum brakes, a tilt-adjustable steering wheel, a multifunction display, and a 60/40 split-folding rear seat.
Source : Mitsubishi Canada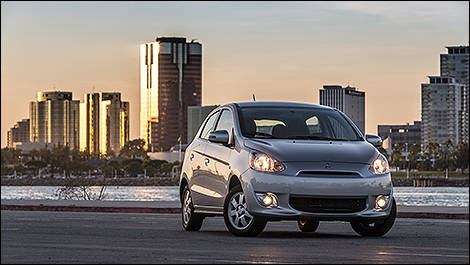 Photo: Mitsubishi