From NASCAR
Brad Keselowski led all but 17 of 400 laps in winning the Federated Auto Parts 400, the final race of the NASCAR Sprint Cup Series regular season.
In the process, he won his fourth race of the season and secured top seeding for the 10-race Chase, which starts Sunday, Sept. 14 at Chicagoland Speedway.
Ryan Newman and Greg Biffle secured the final two of 16 Chase spots on points, Newman with a solid ninth-place run, Biffle with a much shakier 19th-place finish, two laps down.
But it was Keselowski who made the statement in securing the 400th victory across all racing series for team owner Roger Penske.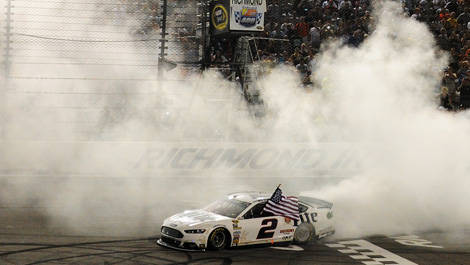 Brad Keselowski (Photo: Rainier Ehrhardt/Getty Images)
"What a night!" Keselowski said.
"Part of me, I pulled into victory lane and I pinched myself once to make sure I wasn't dreaming. These are nights you don't forget as a driver—and you live for. The Miller Lite Ford Fusion was just flying, and this is— I couldn't ask for a better way to enter the Chase than to win and take the first seed.
Keselowski, the Coors Light pole winner, took the lead for the final time on Lap 127 when he beat race runner-up Jeff Gordon and Kevin Harvick, the race's only other leader, off pit road. From that point on, Keselowski's No. 2 Ford was untouchable.
The other drivers who qualified for the Chase are: Gordon, Dale Earnhardt Jr, Jimmie Johnson, Joey Logano, Kevin Harvick, Carl Edwards, Kyle Busch, Denny Hamlin, Kurt Busch, Kasey Kahne, Aric Almirola, AJ Allmendinger and Matt Kenseth.