From NASCAR
It took a few extra laps, but Jason Hathaway left Barrie Speedway with a win Saturday night.
The Dutton, Ontario, native won the Wahta Springs 300 for the second year in a row. It marked Hathaway's second NASCAR Canadian Tire Series presented by Mobil 1 victory of the season and fifth of his career.
Pole winner J.R. Fitzpatrick finished second, followed by D.J. Kennington, L.P. Dumoulin and Jeff Lapcevich.
Joey McColm, Noel Dowler, Erica Thiering, Matthew Scannell and Alex Tagliani rounded out the top 10.
Saturday was the best career finish for rookies Thiering and Scannell.
Hathaway became the first back-to-back winner at the track since Scott Steckly won both series events at the .333-mile tri-oval in 2008.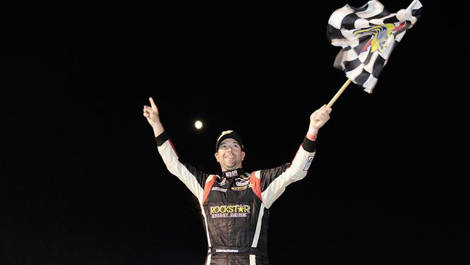 Jason Hathaway (Photo:Matthew Murnaghan/Getty Images for NASCAR)
"I knew in the end there, I wasn't going to give it up, no matter what it took," Hathaway said. "It was a hell of a battle with J.R. [Fitzpatrick] tonight, and I'm glad it was him and nobody else, because we come out smiling at the end and shaking hands, talking about it all week because he and I are real good buddies."
An accident on the frontstretch involving Tagliani on Lap 298 set up the green-white-checkered finish attempt. Fitzpatrick, looking for his first Barrie win, got the edge on the restart from the outside row and led by a nose at the white flag, but ultimately couldn't overcome Hathaway for the checkered flag.
"I got the run I needed, going into Turn 3 (of the final lap) I was ahead and he shoved me up the hill just an extra little bit where I couldn't get to the throttle as soon as him," Fitzpatrick said. "It was exciting for the fans. It was close, really close."
The final margin of victory was a miniscule 0.121 seconds.
With one race to go, Dumoulin now leads Fitzpatrick in the championship standings by a tally of 418-402.
The NASCAR Canadian Tire Series championship will be decided in the season finale on Saturday, Sept. 20 in the Pinty's 250 at Kawartha Speedway in Fraserville, Ont.