The NASCAR Canadian Tire series returns to Mirabel's Circuit ICAR this weekend for the Jiffy Lube 100. Here are a few things you should know before the race.
Full name: International Center of Advanced Racing
Location: Mirabel, Quebec
Opening: 2008

Layout:  2.113-mile, 14-turn road course

Race Length:  30 laps (63.37 miles/102 kilometers)
Inaugural winner: Robin Buck (2011)
Inaugural pole-sitter: Alex Tagliani (2011)
Track record: 95.938 by Andrew Ranger (2013)
Other series on track this weekend: Super Production Challenge, Sportsman Québec Lucas Oil, Canadian Supercar, CTCC and F1600.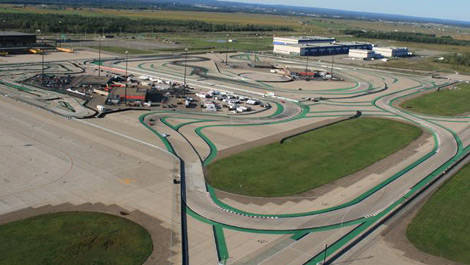 Circuit ICAR (Photo: NASCAR)
Andrew Ranger has been victorious in each of the two previous seasons at Circuit ICAR, and was two laps away from winning the inaugural 2011 event before being involved in an accident.
L.P. Dumoulin has top-five finishes in each of the three previous ICAR races, and is looking for his third top five in a row to start the 2014 campaign.

Quebec natives Elie Arseneau, Patrice Brisebois and J.F. Dumoulin will attempt to make their 2014 season debuts in this event.
Saturday's qualifying starts at 4:30 pm. The race is scheduled for 2:35 pm on Sunday.