From NASCAR
Logano took the lead from Matt Kenseth with 44 laps remaining and scooted to his third Sprint Cup victory of the season in Saturday's IRWIN Tools Night Race at Bristol Motor Speedway.
"We can win the championship. We've showed it at every kind of race track. We've just got to keep doing it," said Logano, 24, who held off his Team Penske teammate Brad Keselowski in the final laps.
"What a year we're having. I'm having so much fun. The past six or seven races have been unbelievable."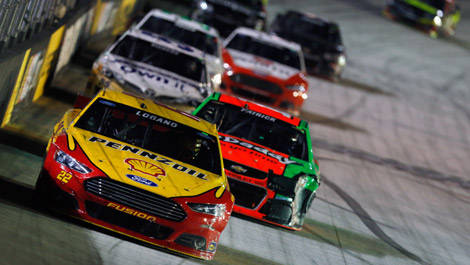 Joey Logano leads at Bristol (Tom Pennington/NASCAR via Getty Images)
Logano has finished no worse than sixth in any of the last five races but took special pride in winning at the track known as the "World's Fastest Half-Mile."
"It's just the baddest mamma jamma race track ever built," said Logano, who two years ago was struggling with a loss of confidence at Joe Gibbs Racing.
"At that point, I would never think I'd have a year like this," he said. "That's why the mental side of this is just as important as the physical side. But I'm happy I went through all that. It's made me what I am now and made me aware of how I have to be, mentally, to win these things."