From Inside Track
Ontario's Team COPS will be present at the 8th Annual Canadian Motorsports Expo Powered by Inside Track Motorsport News.
As an officer serving with the Durham Regional Police, Cory Adams has first-hand knowledge of the number and severity of collisions involving motorcycles and other vehicles.
Taking it upon himself to help reduce this carnage on Ontario roads through awareness and education, in 2005 Constable Adams created Team COPS (Canadian Officers Promoting Safety).
Taking his Team COPS 'Ride Safe Programme' to local schools, he educates and informs students about, among other things, the dangers of impaired driving, illegal street racing and substance abuse.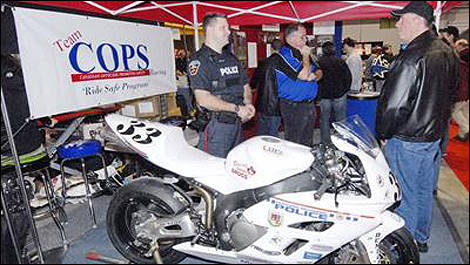 Photo: Inside Track
His efforts towards awareness training also regularly include motorcycle lapping days at Canadian Tire Motorsport Park. These on-track sessions are designed to provide all types of riders with the knowledge, skills and abilities to take their riding to the next level. He also promotes track day riding and is a coach at the Pro 6 Cycle track days at CTMP, Calabogie and Shannonville.
As part of his initiative to expose his program to an even wider audience, Constable Adams will once again represent Team COPS at the 8th Annual Canadian Motorsports Expo Powered by Inside Track Motorsport News.
The CME takes place February 7, 8 & 9, 2014 at Toronto's International Centre, adjacent to Pearson International Airport.
Constable Adams will also lead a seminar that will address another serious problem that he has encountered, both on the streets and at the race track.
"The idea behind the seminar is to break down the rules and regulations for those who are towing trailers," Adams continued. "This subject can get quite confusing, so I have tried to simplify it for everybody."
Topics covered in the seminar will include how to determine if drivers are required to have annual inspections on their trucks and trailers, if they require a CVOR (Commercial Vehicle Operators Registration Certificate), and which class of driver's license is required to operate different truck and trailer combinations.
"When I'm on the job, I'm enforcing these rules. I feel that it's also my responsibility to educate people about them as well. So many truck and trailer – or motorhome and trailer – combinations don't conform to the MTO (Ministry of Transportation – Ontario) regulations and many of these drivers don't have the proper licenses to operate them. This seminar could save someone a lot of headaches and a lot of money in the future."