Exclusive to the Canadian market, Mazda is offering the option to customize the new
2011 Mazda2
with vinyl decal "Skins", to apply to the outside of the car.
Due to the strong appeal for the Mazda2 from Canadians in their twenties and early thirties, a youth marketing committee established by Mazda Canada come up with the idea of the Skins program, giving the ability to the Mazda2 owners to add their personal style to their car by applying a unique vinyl decal 'Skin' design.
Owners can choose from one of four themes: Rock, Pop, Urban and Speed. Each Skins design comes in three different sizes (small, medium and large) and seven different colours, for a total of 84 different decal variations! Depending on the size, the cost is $375, $455 or $595 plus installation.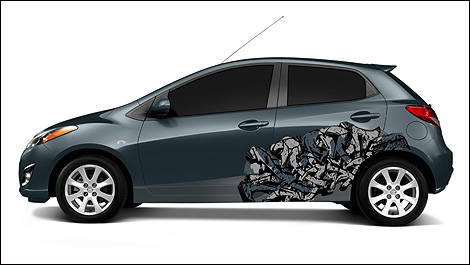 Photo: Mazda
"Today's young people are all about standing out from the crowd, and expressing their own style and taste. We are offering them a unique new means of self-expression with both our Skins program as well as our
Mazda2 Yozora
special edition," says David Klan, Senior Director of Marketing and Sales at Mazda Canada Inc.
To choose the Skin theme, colour and size, simply visit
www.mazdaskins.ca
. Application happens at the dealership and takes approximately one hour. The Skins are made from high-quality 3M automotive vinyl, are safe on the vehicle's paint and are included in the vehicle's 3-year, 80,000 km warranty. The all-new 2011 Mazda2 is in Canadian dealerships now.