From press release
Since its launch in 2011, the Ultra 94 Porsche GT3 Cup Challenge Canada by Michelin has grown into one of this country's most competitive and entertaining, single-marque racing divisions.
Determined to build on the series' momentum, Porsche Cars Canada is bringing the Porsche GT3 Cup Challenge Canada series to the Canadian Motorsports Expo – for the first time ever – with an eye to enticing and educating drivers, teams and spectators about this fast growing Canadian series.
Based on the production, 450 horsepower 911 GT3 RS road car, the Porsche Cup car has become a standard-bearer in worldwide competition, and has enjoyed similar status in Canada.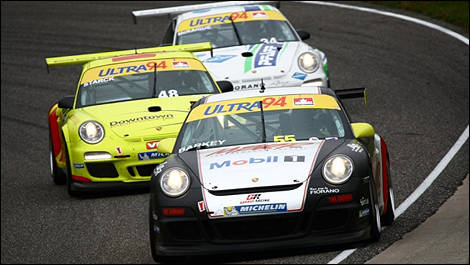 Photo: ColourTechSouth
In 2013, the Porsche GT3 Cup Challenge Canada series raced ten times over five race weekends on four of the country's most storied circuits. From May to September, the series made appearances at Canadian Tire Motorsports Park, Circuit Gilles Villeneuve in Montreal, and the Grand Prix of Trois-Rivieres before concluding the campaign at Calabogie Motorsports Park.
"We have yet to finalize our schedule for 2014, but of course we'd like to return to those venues," says Saint-Pierre. "We're very open to suggestions from the drivers about where they'd like to run. We will try to accommodate them and find an event that will work for everyone, from the drivers and teams to the fans," said Patrick Saint-Pierre, Public Relations Director for Porsche Cars Canada Ltd.
Visitors to the 8th Annual Canadian Motorsports Expo will have the opportunity to see a 2014 Gold Class car courtesy of Woodbridge, Ontario's Pfaff Motors. Showgoers will also be able to meet and chat with several of the Porsche series' competitors.
Concludes Saint-Pierre, "We've enjoyed a lot of local support from the Toronto-based teams and drivers. Their response, as well as the one from the dedicated fans has been tremendous… We are eager to see what the new season has in store as it promises to be the best yet."