Ken Block and co-driver Alex Gelsomino (Ford Fiesta) narrowly won the New England Forest Rally, round five of the Rally America series, over Dave Higgins in Craig Drew (Subaru Impreza), despite mechanical problems on stage 11.
The pair actually had to be towed back to the service park by rivals Rifat Sungkar and Steve Lancaster in order to carry on with the rally, when their alternator let them down.
Sungar and Lancaster went on to finish third the event in third place.
Having completed the rally only 6.5 seconds behind Block, Higgins still leads in the championship standings. But Block's second consecutive win, narrowed the gap down to 27 points, which means mathematically the title fight is still alive.
Having been let down by their Hyundai Tiburon, Canadians Antoine L'Estage and Nathalie Richard never saw the finish line. They were running third when their retirement put an end to a streak of three consecutive wins at NEFR.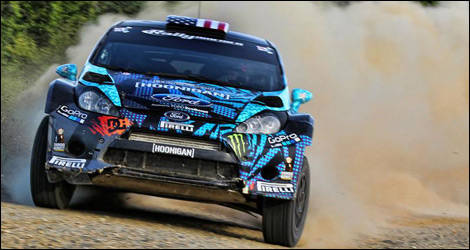 Ken Block, Alex Gelsomino (Photo: Neil McDaid)