Rallywoman Janina Depping, 34, has succumbed to the injuries she sustained in a crash during the Wartburg Rallye, in central Germany.
Her co-driver, 29-year-old Ina Schaarschmidt, died on the scene of the accident, Saturday.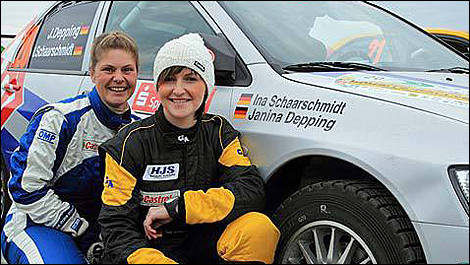 Depping and Schaarschmidt (Photo: Facebook)
Reports indicate the car bursted into flame after hitting a tree at high speed during stage number five.
The rest of the Wartburg Rallye was understandably called off.
Depping and Schaarschmidt's crash is the third fatal accident at the event. In 2007, Mathias Rohlfs also died after hitting a tree, and in 2000, a car left the road and landed in a pack of spectators
Depping and Schaarschmidt formed an experienced and respected rally pairing.
Auto123.com
's sincere condolences go to the family and friends of Depping and Schaarschmidt.