From press release

Hyundai Motorsport has added a third name to its test driver line-up with confirmation today that Australian WRC driver Chris Atkinson will be part of the team's testing programme for 2013.
33-year-old Atkinson will be behind the wheel of the i20 WRC for the first time next week in a private test session. The skilled Australian will support Hyundai Motorsport's main test drivers Juho Hänninen and Bryan Bouffier at selected tests during the remainder of the year.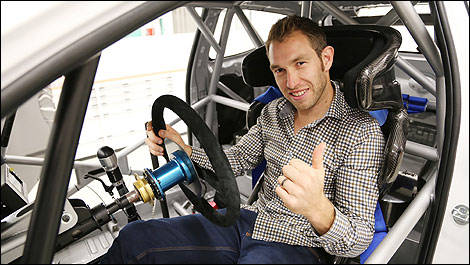 Chris Atkinson. (Photo: Hyundai Motorsport)
An experienced member of the FIA World Rally Championship community, Atkinson has a wide knowledge of all the events and terrains featured in the series, as well as a good experience with the current specification World Rally Cars. The Australian is also the reigning FIA Asia-Pacific Rally Champion.
Hyundai Motorsport Team Principal Michel Nandan said: "It is great to be able to integrate Chris into Hyundai Motorsport testing line-up for this season and I am convinced he will bring a lot of valuable WRC experience. Chris will support the work of our main test drivers Juho and Bryan. With the combined expertise of all three test drivers, we will be able to benefit from thorough and comprehensive input at every test session."
Chris Atkinson commented: "It is such an exciting project. After visiting the Hyundai Motorsport factory three weeks ago, I am simply impressed by the team's commitment and achievements so far. I have a lot of experience of many different WRC cars and events, and I will utilise this knowledge to support the development of the 2014 i20 WRC car."