From Subaru Canada
Pat Richard has inked a new deal with Subaru Canada which makes his Rocket Rally Racing team the Japanese car maker's official team in the Canadian Rally Championship (CRC) for a least three more years.
As part of the partnership's extension, Richard will debut a brand new WRX STI later this season.
"We're honoured that a four-time national champion like Pat Richard heads our official team in the CRC," commented Ted Lalka of Subaru Canada.
"Pat brings with him a wealth of experience in rally car preparation and driving. This puts us in a strong position at the start of every event."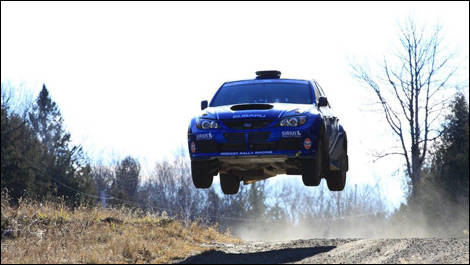 Photo: Rocket Rally Racing
"I'm thrilled to announce the extension of my partnership with Subaru Canada, which has now been running for 13 great years," added Richard.
"Everyone at Rocket Rally Racing will be working extra hard these coming months to get the new WRX STI ready for its debut at the Rallye Baie des Chaleurs."
The Rallye Baie des Chaleurs, hosted in New Richmond, Qc, is round two of the 2014 CRC season.
Having finished second at the season-opener in February, Richard is currently sitting second in the championship standings.