www.wrc.com
World Rally Championship leader, Frenchman Sebastien Ogier has rejected comparisons between himself and nine-time champion, fellow countryman Sebastien Loeb.
Ogier, who drives for Volkswagen leads Loeb by three points in the drivers' standings after two rounds of the 2013 campaign. He has often been frustrated by attempts to liken him to Loeb, with whom he had a fractious relationship whilst team-mates at Citroen in 2011.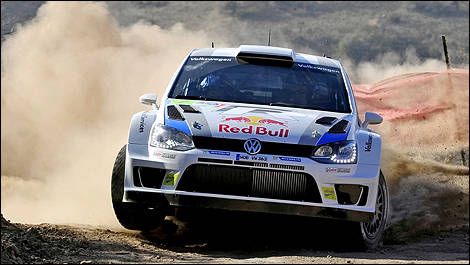 Sébastien Ogier, Volkswagen Polo R WRC (Photo: VW Motorsport)
Asked at Rally Mexico what he thought of claims that he was the 'new' Loeb and would go on to dominate the WRC in the way his fellow countryman did, Ogier responded strongly. "I can tell you, I'm not the new Loeb, I am Ogier. I heard so many times this comparison – we do not need it any more," he said.
"We have 10 years difference between us and are from a different generation. If I was 10 years older then we might have a big fight between us. Now I do my best and continue to drive fast. To compete against him was a great experience for me to push to my limit," said Ogier.
At the opening round of the season, Rallye Monte-Carlo, Ogier became annoyed at attempts to compare his speed with Loeb, who is tackling just four rounds this year.  He finished second behind Loeb, before beating him at round two in Sweden.