From WRC.com
Sebastien Ogier gambled on the right tires going into the afternoon stages in Australia.
Betting against the weather forecast, Ogier went with a dry condition set up on his Polo R WRC and was rewarded.
He was able to wipe off the 4.1 second lead his VW teammate Jari-Matti Latvala, who went for a wet set up, had built up over the morning stages.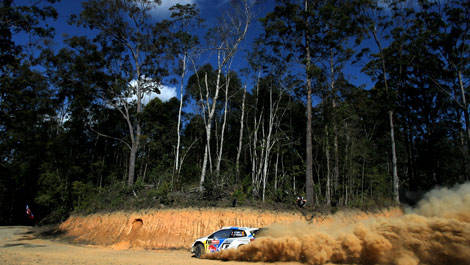 Sébastien Ogier, VW Polo R WRC (Photo: WRI2)
"It was all about tire choice this afternoon," admitted Ogier.
"The meteo was very unsure and there was a risk of thunderstorms, but finally it stayed dry. We had to use one soft tire but Jari-Matti had to use two so it was even harder for him.
"The car moved a little bit and oversteered in right corners but you have to keep that in mind and be a bit cautious," he added.
Six stages remain before the end of Rally Australia. Ogier leads Latvala by 11.8 seconds.