Though the Nissan Rogue remains, by far, the most popular model for the Japanese automaker in Canada, its new little brother, the 2017 Qashqai, has already flexed its muscles in our marketplace. With 814 units sold in the country in the month of June, it is meeting Nissan Canada's expectations, and the consensus is that its sales figures will continue to grow as more consumers discover it.
For one thing, subcompact SUVs in general are a hot commodity. And while the arrival of several new players means the competition is getting more and more ferocious, the Nissan Qashqai offers potential buyers some compelling arguments in its favour. We've already given you our first impressions as well as an in-depth review, in addition to a head-to-head comparison with the Toyota CH-R. Now we list for you for the top 10 reasons that consumers should consider buying a Qashqai:

1. Resolutely modern, the Qashqai sports a look that makes clear its close family ties with the Rogue – we'd even go so far as to say it's better proportioned – and we feel its design is easier to digest than that of some of its competitors, like the CH-R, Jeep Renegade, Mazda CX-3, etc.
2. What's more, you can personalize yours thanks to a choice of eight exterior colours, including the striking Monarch Orange and Nitro Green Lime (photo above).
3. Its trunk space is massive (from 648 to 1,730 litres depending on the position of the rear bench) and of a height that makes loading cargo easy. It also comes with a retractable luggage cover, six anchor hooks and, in the SV and SL versions, additional storage space under the floor.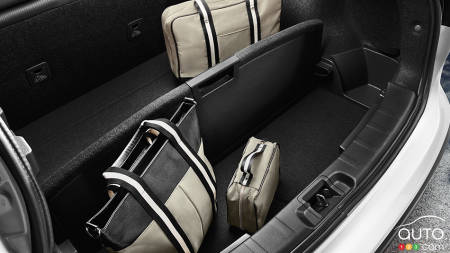 4. On the road, the SUV is well-balanced, agile and especially quiet. In fact the tranquilness of its ride and its very comfortable chassis when driving in the city will be major selling points for many consumers.
5. The driving position, the comfortable seating and the great sightlines out of the Qashqai add up to a very pleasant driving experience.
6. The 141-hp engine is well-adapted to meeting the requirements of Nissan Qashqai owners, who will use it mainly for urban driving and want to squeeze the most out of the fuel they put in its tank (the front-wheel drive version with automatic transmission uses around 8.0L/100 km on average, the manual gearbox brings that to 9.0L/100 km, and the all-wheel drive model uses 8.3L/100 km).
7. The Nissan Intelligent Drive AWD system includes a mechanism for locking the torque distribution at 50/50, giving the vehicle more traction in the challenging conditions so typical of Canadian roads.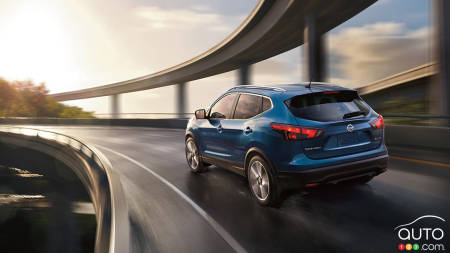 8. Standard equipment includes heated seats, a 5-inch driver assist display, Siri Eyes Free, a hands-free phone system and streaming audio via Bluetooth, hands-free text messaging and a backup camera.
9. Highly rated for safety, the Qashqai can be equipped with Nissan's Around View Monitor offering 360-degree visibility, a blind spot monitoring system with rear cross-traffic alert, lane departure warning backed by a lane departure prevention system, intelligent cruise control and automatic emergency braking with pedestrian detection.
10. Last but certainly not least, its base price of just $19,998 will attract many potential suitors, even if it means settling for FWD and a manual gearbox. This puts its price tag anywhere between $1,000 and $4,000 below its direct competitors. For an AWD Qashqai with automatic transmission, consumers will have to fork over a still-reasonable $24,198.