We know for a fact that most of the exhibitors at the SEMA bought their way in. Mattias Vöcks has a different story to tell. He actually won a contest called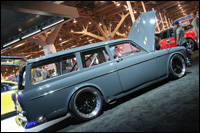 (Photo: Philippe Champoux, Auto123.com)
"Sweden's Hottest Volvo" and got a trip to SEMA as a reward for his hard work.
In this soundslides presentation, Mattias talks about his love for car restoration and explains how he came up with this unique design of his Volvo 121 wagon.
This presentation concludes our coverage of the Volvo booth at the 2006 SEMA show in Vegas. I hope you had as much fun watching the soundslides as I had making them.