We're never happy with what we have now. Or, better yet, we're always looking to the future for bigger, better and faster things. 2012 is at our doorstep and with it comes numerous new cars.
So far, there are literally dozens of cars for the 2013 model year that are tickling our collective fancies. One such example is the upcoming Ford Focus ST. Because we can't (we could but we won't) build a 35-car gallery, we decided to limit the list to 10.
Well, we tried. The following gallery includes cars that we can't wait to see in the steel or better yet, drive. As the auto show season picks up its pace, we'll see more of these, but you'll agree that driving the cars is the best part.
We're well aware that some cars you might be looking forward to are not on this list but you know us, before you can say autumnal equinox, we'll have covered most of them through news, previews or reviews.
Here are our Top 10-ish most anticipated 2013 cars in pictures.
2013 Audi RS4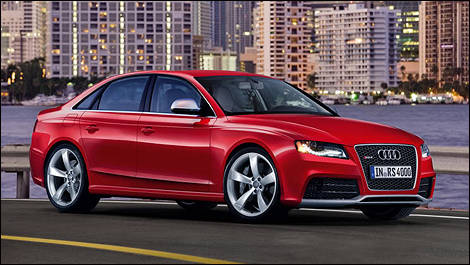 RS is the shiznit for any Audi. The previous RS4 ranks high, very high on everyone's car wish list. This one will kill with an expected minimum of 450 hp. (Photo: AudiBlog.nl)