Yup, I'm at it again and I can't nor am I willing to stop it. Every time I visit the Old Continent, my eyes are flooded with wagons of all types, shapes, sizes, and standings. The bottom line is: Wagons have been given a bad rap in North America, and they don't deserve it.
If you think station wagons are uncool, but are down with the likes of the
Toyota RAV4
,
Honda CR-V
or
Mitsubishi Outlander
, we need to sit down and have a talk. Really.
Here's my list of wagons that were either unveiled or present on the 2013 Geneva Auto Show floor. There's no particular order except where my description clearly stands out as being loaded with lots of praise.
Volkswagen Golf Variant
The new 7th generation Volkswagen Golf is already making waves, and was named Car of the Year in Europe by a group of big-shot auto journalists. The real winners are you and I because the redesigned Golf Variant (aka wagon) takes on a stouter appearance, along with rechiseled lines. The pic here shows the ultimate, the most fantastic, version and it is the (deep breath) Golf Variant R-Line 2.0 TDI 4MOTION. This one has a 6-speed manual box! Go ahead; tell me it's
not
cool.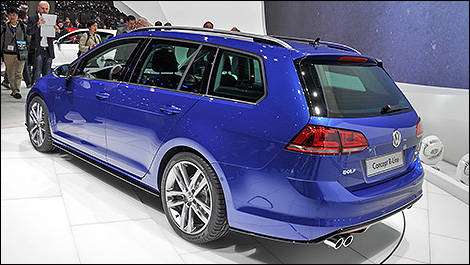 Photo: Mathieu St-Pierre