Visitors at the
2013 Montreal International Auto Show
can try a new interactive application to customize their dream Volvo.
Developed by WhereCloud in Montreal, the app allows smartphone and tablet users to virtually tailor any Volvo model on display. They can select the powertrain, the exterior and interior colours, as well as the various features. The app then previews the result along with a price.
''Online vehicle builders can be quite complex and tedious. Touchscreens are much more attractive and intuitive to use, especially when the car is right in front of you,'' says Martin Dufort, founder and president of WhereCloud. ''Users can try out various options and compare prices in a clear and simple way. This app fits in Volvo's overall customer experience.''
Following Montreal, Volvo will present the app to visitors at other auto shows including Toronto, Calgary, and Vancouver.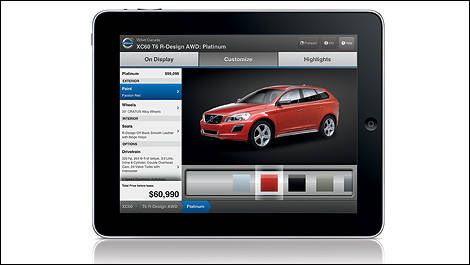 Photo: Volvo