From press release
Toyota Racing extended its lead in the FIA World Endurance Championship by taking pole position for the Six Hours of Circuit of the Americas in Austin, Texas.
Anthony Davidson and Sébastien Buemi, who share the #8 TS040 Hybrid with Nicolas Lapierre, claimed pole position by more than a second. That earned a bonus point which extends their lead in the drivers' championship to 21 points.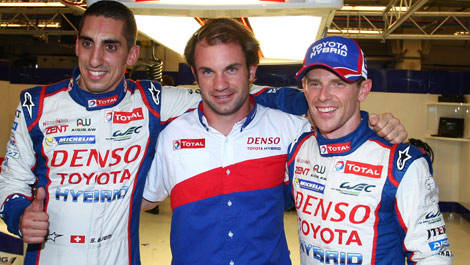 Sébastien Buemi, Nicolas Lapierre, Anthony Davidson (Photo: WRI2)
The team celebrated its third pole position from four races this season, also earning a point which doubles its lead in the manufacturers' standings to two points.
Mike Conway took part in qualifying on his Toyota Racing debut. He, and Stéphane Sarrazin, claimed fifth position in the #7 they share with Alex Wurz.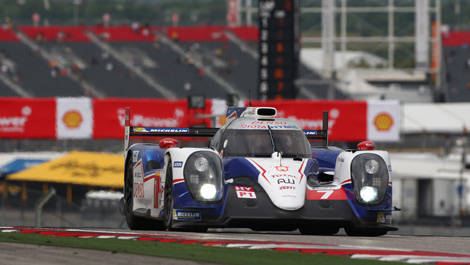 #7 Toyota TS040 Hybrid (Photo: WRI2)
The WEC qualifying format requires two drivers from each car to set a minimum of two flying laps each. The grid is decided by the combined average of each driver's fastest two laps.
Earlier rain left parts of the circuit damp for the start of qualifying, so the #8 crew waited for three minutes before heading on track. That decision proved significant as the drying track saw lap times improve throughout the 25-minute session.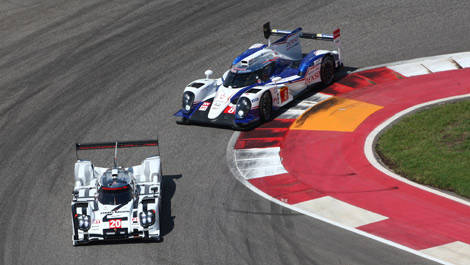 Photo: WRI2
Qualifying results – Word Endurance Championship
(WEC)
1.Davidson-Lapierre-Buemi (Toyota TS040 Hybrid) - Toyota - 1'49"093
2.Dumas-Jani-Lieb (Porsche 919 Hybrid) - Porsche - 1'50"283
3.Bernhard-Webber-Hartley (Porsche 919 Hybrid) - Porsche - 1'50"302
4.Fassler-Lotterer-Treluyer (Audi R18 e-tron quattro) - Audi - 1'50"340
5.Wurz-Sarrazin-Conway (Toyota TS040 Hybrid) - Toyota - 1'50"363
6.Di Grassi-Duval-Kristensen (Audi R18 e-tron quattro) - Audi - 1'51"456
7.Kraihamer-Belicchi-Leimer (Rebellion R One-Toyota - Rebellion - 1'54"665
8.Rusinov-Pla-Canal (Ligier JS P2-Nissan) - G Drive - 1'56"075
9.Howson-Bradley-Matsuda (Oreca 03-Nissan) - KCMG - 1'56"371
10.Sharp-Dalziel-Brown (HPD ARX 03b - Honda) - Extreme Speed - 1'57"262
(...)