New York, NY —
The highest profile auto executive at the 2012 New York International Auto Show was Nissan and Renault president, Carlos Ghosn… at least judging by the amount of paparazzi and media scrums that showed up whenever he showed up.
And he showed up a lot: at the show's industry conference; at a press conference with New York mayor, Michael Bloomberg, to introduce the city's new
Nissan NV200
taxi; on press days, as the keynote breakfast speaker, and later to introduce the
2013 Nissan Altima
and
Infiniti LE Concept
.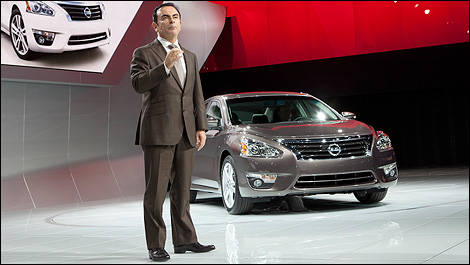 Nissan and Renault president, Carlos Ghosn (Photo: Nissan)
He is well known for turning around Nissan, forging the alliance between Nissan and Renault, being the industry's most ardent supporter of electric cars, and for even being a cartoon book hero — his book on Nissan's turnaround was later condensed and turned into a manga, which is the Japanese version of a graphic novel.
Here is a sampling of what Carlos said during his various microphone moments at this year's show…
On future EV and fuel-cell sales goals…
"We continue on our zero-emission vision along with our partner Renault. We are targeting cumulative sales of 1.5 million zero-emission cars by 2016. This will deliver a 20-percent reduction in our carbon footprint, and a 35-percent improvement in our fuel economy… Worldwide we have already sold more than 27,000 LEAFS, since its introduction in late 2010, including more than 11,000 in the United States…
On current slow sales of LEAF in North America…
"I don't want you to take a month or two of sales in one market to try to make your opinion of a very important technology for the industry. All the stars are lining up (move to local US production, high gas prices, stellar launch quality, more competitors entering space, better economic climates) for it to become very important in the market… I still back my forecast that electric cars will represent 10 percent of the market in 2020, in the markets where it will be available."
On re-introducing the Datsun brand…
"The Datsun brand will bring modern, high value products to people in some of the world's fastest growing markets, starting with Russia, India, and Indonesia. This is an exciting way to target the millions of people joining the middle classes around the world, and before you ask, no, we do not intend to bring Datsun back to the United States."
On the alliance with Daimler-Benz…
"In addition to the original project (Infiniti's upcoming entry car utilizing a Daimler platform), earlier this year Dieter Zetsche and I announced that Mercedes will be producing engines for the first time in North America, at Nissan's facilities in Tennessee. Many additional projects will be unveiled soon."
On what to do with spent batteries…
The use of the battery outside the car is clear… They can be used in a house, office, or plant. Battery [life] is going to be much longer than the life of the car… As you probably know, we've created a company where we are going to be buying batteries from people and using them for other purposes… Decreasing the cost of the battery, and reducing the size of the battery, is the main challenge. But this will pass.
On various things Infiniti…
Not all of the luxury brands have the appropriate EV experience, or the sustainable product credibility to play a leadership position, no one except Infiniti… We're on verge of significant growth. The advanced Infiniti LE (electric vehicle) will be a perfect addition to our expanded lineup, as we drive toward our target of 500,000 Infiniti (global) sales by 2016… As of April 1, Infiniti becomes the first automaker to be headquartered in Hong Kong, one of the great international luxury markets."