The new Volvo S60 and V60 Polestar have just made their global debut, much to the delight of performance enthusiasts in Canada, the Netherlands, Japan, Sweden, Switzerland, the U.K. and the U.S., who will have the ability to buy either model.
Prices and quantities have yet to be announced, however.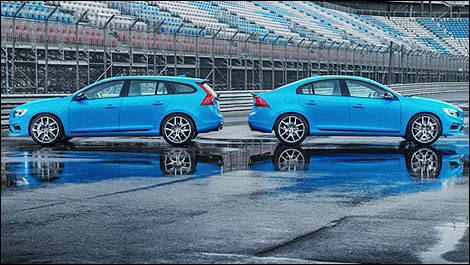 Photo: Volvo
Built on a stiffer chassis and riding on 20'' wheels, the Volvo S60 and V60 Polestar house a 6-cylinder turbocharged engine (T6) rated at 350 horsepower and 369 lb-ft of torque. Using a 6-speed automatic transmission, they can sprint from 0-100 km/h in 4.9 seconds before reaching a top speed of 250 km/h. Both the transmission and AWD system (along with traction control) have been re-calibrated for superior grip.
"It is very satisfying to see how Polestar have been able to combine this level of driving performance in their interpretation of the S60 and V60 with maintained original service program, class leading safety features and certified fuel and emission ratings. Customers buying this car will get the best from both Polestar and Volvo," said Alain Visser, Senior Vice President Marketing, Sales & Customer Service at Volvo Cars.