2000-2006 Mazda MPV Pre-Owned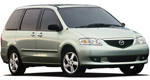 From cars to trucks to SUV's, Mazda's "Zoom Zoom" ideology is more than just a catch phrase. It even works on minivans, a vehicle commonly purchased by fathers who have come to realize, begrudgingly, that their days of touting around in a stylish and exciting vehicle are over.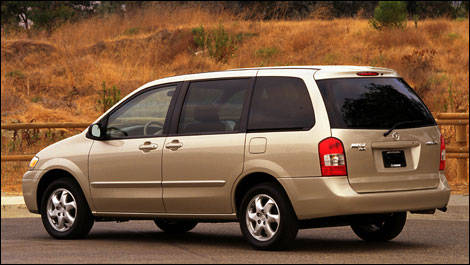 2000 Mazda MPV
But when Mazda's next-generation MPV was released back in 2000, it sought to do away with this convention. Fun styling combined with a powerful V6 engine and sporty, car-like handling response were MPV's claims to fame. Gone were the days of its rear-drive truck-like construction and available 4x4 system, replaced with a more typical front wheel drive setup. The change worked to impress buyers everywhere, as Mazda sold a total of over one million MPV's.
The new MPV platform was built from that of the 626 and featured fold-flat rear seats and roll-down rear windows. Several seating arrangements were available depending on the trim level, consisting of either a bench or buckets in the middle row. A sunroof was available, as was a ground-effects kit- two rare options for a minivan.
Early models were powered by the same Ford 2.5 litre Duratec V6 as the Contour and Mystique. With 170 horsepower, it may have seemed adequate on paper, though in the larger and heavier MPV, it was largely considered underpowered- especially loaded with people and gear.
Models from 2002 and later received additional performance from a larger 3.0 litre V6 engine which bumped horsepower to 200, and fed it to the road through a more versatile 5-speed automatic.
A 2004 makeover brought some minor cosmetic changes including new headlights and clear-taillamps, as well as a new steering wheel and gauge surrounds- though hardware remained virtually unchanged.
MPV is smaller than some competing minivans, though most families should find its space adequate. Its lighter, smaller and more nimble stature had benefits in the handling and sportiness departments, and MPV scored impressively well on government crash-tests too.
Long story short: big things can come in smaller packages, and as far as minivan's go, the MPV proves it.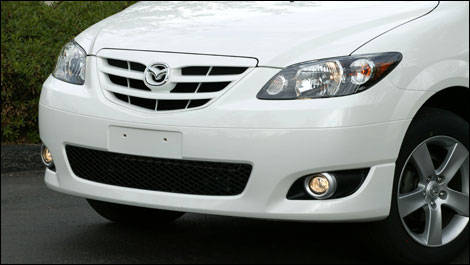 2004 Mazda MPV