Mainly minor problems for Saturn's funky Ion
2003-2007 Saturn Ion Pre-Owned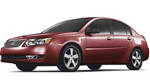 Saturn's brand revitalization is complete, and they now boast an entire lineup of fresh, new vehicles ranging from compact to full-size. The new Astra three-door and five-door models have recently taken a stand at the lower end of Saturn's offerings- so the time may be right to look for a good deal on the brands former entry-level car, the Ion.
Ion was produced from 2003 to 2007 in either coupe or sedan body styles, replacing the "S" series in Saturn's lineup. The coupe offered easy backseat access for people or pets by way of a useful set of suicide doors. Tucked in behind the front doors, these smaller openings allowed easier access to the rear seats while maintaining the looks of a coupe.
Ion came powered by several fuel-efficient Ecotec engines, mated to a four-speed or five-speed automatic gearbox, or a five-speed manual. A Continually Variable Transmission (CVT) was available in certain years, though it was scrapped because of reliability issues and poor sales. If you've never thought there was anything wrong with a normal automatic transmission, don't look for a used Ion with the CVT.
Later in the cars life, GM's 170 horsepower, 2.4 litre four cylinder was available, as was a two-litre supercharged engine in the high-performance Redline model. The latter delivered various suspension and visual tweaks, alongside 205 horsepower.
With various engine and transmission choices alongside different special editions and appearance packages, finding a Saturn Ion that matches your personality won't be a problem.
The big appeal to the Ion is the selection and fresh, youthful sense of style that made it a hit with customers across a wide span of age groups. It's a car worth considering- but it wasn't without its share of problems you'll want to look into first.
If considering a used Ion, be sure to have access to service records and question the former owner to see if indications of any common problems have been noted. Ion is full of potential issues that may present themselves audibly- so be sure to turn off that stereo on a test-drive, once you know it works.
Pop the hood and have someone start the engine. Listen for any unusual or sporadic rattling sounds, which could be caused by loose exhaust manifold bolts. This isn't a huge issue if diagnosed properly.