2003 Ford Excursion XLT Limousine Review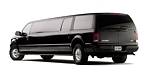 2003 Ford Excursion XLT Limousine - Truckin' in High Style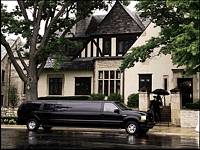 Ford approved and certified its Excursion platform for Qualified Vehicle Modifier limousine conversions. The heavy-duty sport utility vehicle is the first manufacturer-developed, approved and cerfited limousine for an SUV. (Photo: Ford Motor)
Wow! Wow! Wow! What a, uh, truck, uh, limousine, uh.... Even Hussein Mahmoud's mother was at a loss the first time she saw the newest addition to her son's fleet, "Wow," she exclaimed, "What is this?" Big emphasis on IS there.
No wonder. A 32-foot stretched Ford Excursion has that effect on people. Mr. Mahmoud's limousine company, Elite Limousine and Sedan Service based in Ottawa, is one of the first in Canada to own one and no matter where he takes the limo-truck, people stand in awe. And his second is ordered and on its way. "Twins," he boasts, a man used to saying this as his wife gave birth to a twin son and daughter nine months ago.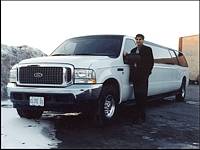 Mr. Mahmoud is an energetic businessman with a profound sense of responsibility. He gestures to the other gleaming sedans and limousines garaged in an east-end warehouse, "People ask, how to you do this. I tell them if you put effort into it, you can get what you want. If you wait for a pay cheque and it's gone by Monday, then you'll never do it. I say, follow me, see what I do and you'll know how to do it. I'm always out working. When you've got a family to support, vehicles and a house to pay for, you've got to be responsible." This is someone who won't let you down.