2005 Mitsubishi Montero Limited Road Test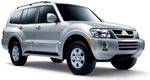 A Premium SUV Trapped behind an Entry-Level Nameplate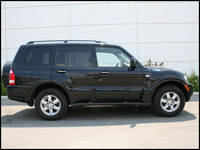 Built from the ground up as a capable off-roader, its 4x4 roots have helped it win fans around the world. (Photo: Justin Couture, Canadian Auto Press)
It seems these days that the entrance ticket to the sport utility world is height, and I'm not even talking about ground clearance. It's a game of visual appeal. Whoever has the most rugged and durable looking design often emerges as the sales champ, particularly if backed by wood, leather and a decent view to the outside world. Mud-slinging, terrain-gripping and hill-scaling abilities have all been scaled back for a more price-effective, car-based, image-oriented product, equipped with plenty of creature comforts.
While there's no denying that Mitsubishi's oldest SUV is stuffed to the gills with electrical gizmos and doo-dads, it's the only traditional SUV left in the Japanese automaker's reduced 2005 lineup. Built from the ground up as a capable off-roader, its 4x4 roots have helped it win fans around the world (Shogun and Pajero in Europe and Asia respectively), and it's even gone on to win the Paris-Dakar endurance rally several times. That's mystique that can't be bought.
While the chances of seeing a Montero on your daily commute to work are probably slim, Mitsubishi has been constantly updating it since the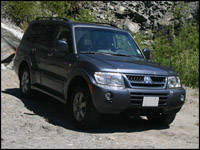 The Montero's body, with taut wheel bulges finally has a bit more substance to match its towering height. (Photo: Trevor Hofmann, Canadian Auto Press)
introduction of the latest generation in 2001. Heavily reworked, this rendition grew in length and wheelbase, as well as track in order to produce a more stable vehicle. Its body, with taut wheel bulges finally has a bit more substance to match its towering height, while still managing to look classy enough to haul the family out to the country club.
Two years down the road in 2003, a larger, more powerful V6 ousted the 200-horsepower 3.5-litre engine, and a new bisected grille bearing the homogenized corporate face was added, bringing this gentle giant inline and up to date with other global offerings. During that time, Mitsubishi also whittled the range down to a lone trim level, the fully-equipped Limited.