Serving a purpose
2012 Chevrolet Orlando LTZ Review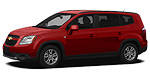 I honestly don't know why this type of vehicle isn't more popular. A compact-sized car with a high roof, a fuel-efficient engine and room six or seven passengers, in my books, is ideal for budget-minded families with more than two kids. Welcome to the small but growing multipurpose vehicle segment.
Oh, this isn't a revolutionary idea. One could consider them as the successors to the short-wheelbase
Dodge Caravan
and Plymouth Voyager of the '80s, while a couple of Japanese brands have tried the recipe in the '90s, with the Nissan Axxess and Mitsubishi Expo LRV (also known in Canada as Dodge/Plymouth Colt Wagon and Eagle Summit). Today, multipurpose vehicle players include the Mazda5, the Kia Rondo and the upcoming
2013 Ford C-MAX
.
The Chevrolet Orlando is GM's entry in the category, and satisfies the need for maximum seating capacity in a relatively small package. It also promises low fuel consumption, which isn't quite the case during the course of this test.
Space for seven
With an MSRP of $19,995, the 2012 Chevrolet Orlando is the least expensive seven-passenger vehicle you can buy in Canada; the Mazda5 has six seats, the North American C-MAX will get only five, and the Rondo EX with the optional third-row bench costs $23,795.
Now, don't start planning a road trip to Vegas with six of your buddies just yet. The rearmost bench in the Orlando is best suited for kids; remember, this is a compact-sized vehicle. In addition, occupying all rows of seats leaves no room for cargo. You either haul stuff or a max load of passengers, not both. Same thing with the Mazda and the Kia.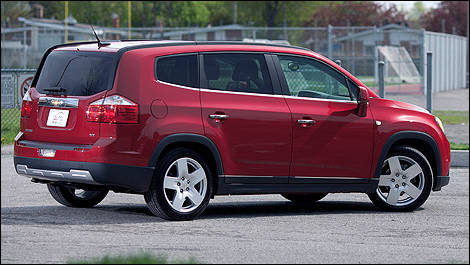 The Chevrolet Orlando is the cheapest seven-passenger vehicle you can buy in Canada. (Photo: Sébastien D'Amour)
Yet, with two or three kids, the Orlando makes a lot of sense. Flip down that third row and you get 739 litres of space, enough for carrying your family's belongings. Fold down the second row as well, and you get about 1,600 litres of volume; only the Rondo is bigger inside.
One advantage I think the Mazda has over the Chevy concerns its sliding side doors. Kids can carelessly open their door in a shopping centre parking lot and dent the car beside; not so with sliding doors. The Orlando also has rather wide B-pillars, which create blind spots when you're trying to merge into traffic or change lanes.
The Chevrolet Orlando benefits from supportive seats up front and a good driving position. The switchgear layout is also well thought-out, while the sound system includes a USB port in our tester, concealed in a storage compartment behind the button interface; unfortunately, bigger USB keys will prevent you from closing the lid. And navigating through MP3 file folders is a little fussy.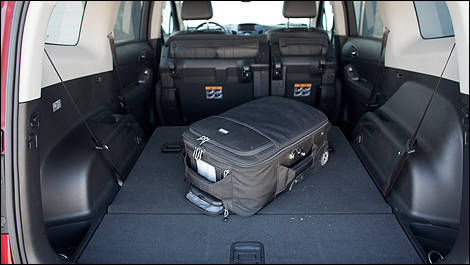 Fold the second and third rows of seats down, and you get almost 1,600 litres of storage space. (Photo: Sébastien D'Amour)
Four-cylinder power, six-cylinder fuel consumption
Every Orlando is equipped with a 2.4L inline-4, which develops 174 hp and 171 lb-ft of torque. A 6-speed manual is available, but we think 95% of buyers will choose the 6-speed automatic instead. The 0-100 km/h sprint takes 10.4 seconds with the automatic, while fuel economy ratings are 10.6/6.9 L/100km city/highway.
Unfortunately, our average of 12L/100km isn't nearly as impressive. We're driving conservatively, we're easing away from stoplights very smoothly, and at 100 km/h, the engine spins at only 1,900 rpm; heck, we're eco-driving the Orlando, and it's still consuming more than expected. Ironically, the bigger and heavier Equinox crossover boasts better fuel economy ratings.
Fuel issues aside, the 2.4L engine is up to the task of getting the Orlando up to speed swiftly, while the ride is comfortable for everyone including rear-seat passengers. However, the on-center feel of the electric-assist steering isn't very precise. Overall, Chevy's multipurpose vehicle may not be as fun to drive as the sportier Mazda5, but it isn't a chore either.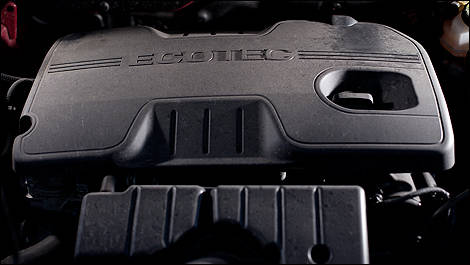 Each Orlando is equipped with a 174-hp, 2.4L 4-cylinder engine as well as your choice between a 6-speed manual and a 6-speed automatic. (Photo: Sébastien D'Amour)
Decent equipment list
The base Orlando LS includes keyless entry, power windows, six airbags, a 6-speaker stereo as well as traction and electronic stability control systems, while A/C is optional. The 1LT gains a telescopic steering column, power heated mirrors, body-coloured door handles and cruise control. Adding goodies such as alloy wheels, Bluetooth connectivity, a USB port and heated seats brings us up to the 2LT, which starts at $23,595.
Our tester is the top-shelf LTZ trim, however, with the optional leather seating package and power sunroof. Total price before taxes, freight and delivery charges: $30,505.
In comparison, a loaded Mazda5 GT costs $28,430, while a Kia Rondo EX V6 Luxury costs $27,195.
The Chevrolet Orlando is a competent multipurpose vehicle that can hold its own against its rivals, and so far this year, it's selling slightly better than both the 5 and the Rondo. The LTZ trim is too expensive, but a 2LT is a reasonable deal for what's included with it.
Key Competitors