Rollin' in my C-a-d-i-l-l-a-c...
2014 Cadillac SRX Review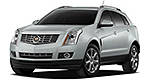 Recaro makes baby seats. Coach makes diaper bags. Louis Vuitton makes coin purses. So, why wouldn't Cadillac make a practical, compact, family-oriented vehicle? My point here is that you wouldn't expect some companies to release the products they do, opening up the door to a whole new type of customer.
Truthfully, when the SRX first appeared in the mid-2000s, it was more "Cadillac" than it is now (read: big). However, over the years the model has been streamlined a bit and made more accessible and appealing to those in the market for a crossover with a bit more class.
What is a Cadillac SRX?
As mentioned above, the SRX made its first appearance in 2004 and was categorized as a midsize crossover. The first generation model looked to be a strangely bloated and stretched out version of the DTS sedan -- not particularly attractive. The original engine in the SRX was also larger, a 3.6L V6, and a V8 was also available. At the time, fuel efficiency was not the name of the game, clearly.
2014 Cadillac SRX Price and Specs
I'll admit, I was a little shocked at the sticker price attached to the 2014 Cadillac SRX AWD, then I remembered it is after all a Caddy. This luxury crossover starts around $40k. My particular tester, equipped with AWD and in "Premium" trim, starts at $55,640. After all was said and done --
CUE
added along with driver aids and larger 20" wheels -- my 2014 Cadillac SRX4 tipped the price scales at $62,225.
Large numbers aside, the 2014 Cadillac SRX4 has other more favourable digits attached to it like its 3.6L V6 that produces 308 horsepower and 265 lb-ft of torque. Power is controlled via a 6-speed automatic transmission, and the whole system ensures a combined fuel efficiency rating of 11.2L/100km (which is roughly what I averaged throughout the week).
Driving the 2014 Cadillac SRX
Here's a vehicle that's not trying to be anything other than a comfortable, pleasant to drive crossover. Sure it has a V6 and a bit of oomph, but this is by no stretch of the imagination a sporty vehicle.
Overall, I was content with the way the 2014 Cadillac SRX4 drove. I wasn't overly impressed, but it didn't leave me wishing I were driving something else either. Each time I got behind the wheel, I was pleased to be there and looked forward to the drive. Steering is on point, throttle response is good and the transmission is never searching for the right gear.
My only complaint, and perhaps my biggest one, is the engine noise that enters the cabin if the SRX is pushed. On occasion, particularly in situations where I needed to pass another vehicle, I had to give it quite a bit of gas at which point the noise infiltrating the cabin was close to unpleasant. It's something one shouldn't have to deal with in a Cadillac.
The AWD system is sufficient enough and handled itself very well despite our frigid, snowy conditions throughout the week. The traction control wasn't too intrusive and I actually left everything fully turned on throughout the test.
Inside and Out of the 2014 Cadillac SRX
Cadillac's have such a distinct look and presence on the road, and I love that. The 2014 Cadillac SRX has some great lines and angles that suit the design of the vehicle to a tee. There's something overtly masculine about this crossover, and I think it works perfectly. From the oversized grille and headlights to the exaggerated side gill and shoulder line. This car is all angles, and they're all good.
Inside, the good looks continue. I adore the SRX's steering wheel. The buttons are just the right size and placed perfectly. While I still take issue with the touch-sensitive "buttons" on the centre stack, I do quite like CUE and know that while there is a steep learning curve, it would be pleasant to live with every day.
What really caught my eye in the 2014 Cadillac SRX was the trunk storage system. The available Cargo Management System features a great underfloor storage bin as well as a floor-mounted metal rack with an adjustable cargo fence (to hold groceries or smaller bags in place so they don't slide around). All in all, utility levels are high in this luxury CUV.
Comparing the 2014 Cadillac SRX
Based on its price, the SRX is playing with the big boys like the Infiniti QX70, BMW X5 and Mercedes-Benz M-Class. While it measures up in terms of amenities and drive, if it were I faced with the choice of buying the Cadillac crest over a European mark, I'd have a hard time justifying the price of the domestic brand.