The quirky kid
2014 Subaru Legacy Review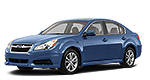 Subaru has always been a quirky kid, marching to the beat of its own drummer and finding
loyale
followers along the way. In recent years, with some backing from fellow automaker Toyota, Subaru has been breaking from its own steadfast mold. Though, some of that oddball character still remains in its older products.
The Legacy is as normal as it gets at Subaru. With a midsize sedan bodystyle and two normally aspirated engines to choose from, the Legacy's only real quirk is styling. Though, it does have one saving grace: the Legacy is the most affordable all-wheel drive midsize sedan in Canada.
What is the Subaru Legacy?
If your first desire is all-wheel drive, the Legacy is where you start. Our tester, a 2.5i Limited Package with EyeSight Option model, is as far up the ladder as you can get without opting for the 3.6L H6 model.
The fifth generation car is in its final year of production for 2014. As
2015 models
start rolling out to dealer lots, this Legacy will slowly vacate those same spaces.
The Legacy is priced quite competitively as well, often below some of its front-wheel drive rivals. If you can get beyond its looks, it can be quite the bargain.
2014 Subaru Legacy Price and Specs
Two BOXER engines are available for the Legacy. The base engine is a 2.5L horizontally opposed 4-cylinder mill developing 173 hp and 174 lb-ft of torque. If you want more power, the Legacy can also be had with a 3.6L horizontally opposed 6-cylinder engine with 256 hp and 247 lb-ft of torque.
The Legacy is available in seven different trim lines: 2.5i, 2.5i Convenience Package, 2.5i Convenience Package with PZEV Option, 2.5i Touring Package, 2.5i Limited Package, 2.5i Limited Package with EyeSight Option, and 3.6R Limited with EyeSight Option. The 2.5i base model starts at $23,495 with pricing topping out at $36,195 for the 3.6R. Our particular unit was priced at $33,995.
Driving the 2014 Subaru Legacy
Not particularly exciting, but not mind-numbingly boring either, the Legacy is an all-rounder with safety at the forefront. Its 2.5L mill is spirited without the captivating pull of larger or turbocharged engines, especially when mated to the Lineartronic continuously variable transmission. Equipped with all-wheel drive, wheel slip is not a concern.
In an equal mix of highway and city driving, the midsize Subie was able to return 8.4L/100km by the end of the week, matching its official EnerGuide city rating on the nose.
Ride quality in the Legacy is a great mix of comfort and athleticism; compliantly soft when needed but providing grip for those sweeping cloverleaf turns. You would never categorize the Legacy as firm, nor soft, instead finding that sweet spot eluded by so many automakers.
Steering is precise with a fair amount of feedback for the inner racer in all of us, though turning the wheel is definitely not heavy nor difficult to deal with day to day. Throttle response is a bit on the safe side, mostly due to the CVT, and braking feel could use some tweaking.
Inside and Out of the 2014 Subaru Legacy
And this is where it all falls apart, at least metaphorically.
Pretty, the Subaru Legacy is not. Instead, it's that gangly, awkward boy who hit puberty in fourth grade.
This generation of the Legacy has the clumsiest looking front fascia since the model's inception in 1989. Between the too-busy chrome grille, boss-eyed headlights, and what seems like nine different bodylines, the face of the Legacy is a mess. Thankfully, the new model coming out in 2015 is much more conservative and refined.
Wheel arches also add to the awkwardness of the design, sticking out like 22" biceps on a midget. Making it even worse, the rest of the Legacy's profile is ultra-bland.
At least they designed the rear with some modicum of restraint, keeping it fairly basic and unassuming.
I can forgive a vehicle for being ugly-but-utilitarian on the inside, as long as I can find everything I need to operate the vehicle effectively, I'm satisfied (though, it won't get full marks). Unfortunately, the Legacy lets me down on both fronts.
The gauges are decidedly old in appearance thanks to a screen with next to no customization. Infotainment is poor at best, thanks to confusing, unintuitive controls and bad design. Materials used for the center console also give the impression the interior was molded before Seinfeld went off the air.
Overall, the interior is either dated or badly executed, to which there is no excuse in a segment with some much better contenders. If there is any saving grace, the seats are fairly supportive.
If you are looking for an AWD midsize on the cheap, you may be able to scoop up a 2014 Subaru Legacy with some cash on the hood.However, if you can wait, you should. The 2015 model promises to be better in almost every conceivable way.
Comparing the 2014 Subaru Legacy
Attacking snowy roads in an entry-level midsizer with all-wheel drive is a job suited to few vehicles. The Legacy trudges through the slush with the Ford Fusion AWD and forthcoming Chrysler 200S AWD. Adding some cash to your budget provides two more options in the
Buick Regal AWD
and soon-to-be-launched Acura TLX SH-AWD.