A point of contention
2015 Subaru WRX Review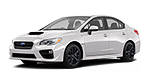 Once a Subaru lover, always a Subaru lover. Them's the rules, and they must always be adhered to. So, by way of the rules it would seem I have to love the 2015 Subaru WRX. On a number of levels, I do. However, the introduction of a new transmission offered in the turbocharged Rex has me scratching my head and wishing Subaru had left it exclusively manual.
As an esteemed colleague of mine stated; you can still loved a neutered pet, right? And that's just it, the CVT-equipped 2015 WRX feels neutered in a way that's hard to ignore.
What is a Subaru WRX?
It used to be an Impreza WRX, but Subaru has since dropped the connection to the Impreza and let the WRX and
STI
branch off on their own. Essentially, the WRX is Subaru's entry-level rally star. Turbocharged and with Subaru's reknowned symmetrical AWD and BOXER engine, the WRX is loads of fun in any weather and on any road condition, plus practical as a family hauler.
While this would have been the 5th generation of the WRX as an Impreza, its separation means this is a first generation car.
2015 Subaru WRX Price & Specs
For just a smidge under $30k, you can walk away with a base WRX that'll offer up a 6-speed manual transmission (finally), 17" wheels, and AWD. Not bad, in my opinion.
If amenities do it for you, you'll need to upgrade to the WRX Sport-tech package that starts at $35,495 and offers up all the regular stuff plus a Harmon Kardom premium stereo, leather and more.
My particular tester was in the middle of the pack at just over $32k and offered up a few extras like a back-up camera, 8-way power adjustable seat and, the CVT…
Sadly, the WRX (and similarly the STI) is no longer offered as a hatchback. It's sedan or nothin', at least it is for now. But I'll get to the design later… In terms of engine offerings, no matter which WRX you walk away with you'll have the pleasure of exploiting the 2.0L BOXER turbocharged engine good for 268 horsepower and 258 lb-ft of torque.
Now, here's my point of contention: The 2015 Subaru WRX is now offered in both a 6-speed manual or with a CVT. That's right, there is now an automatic WRX, and not just any sort of automatic, a CVT. Let that sink in for a second.
Driving the 2015 Subaru WRX
As you may have gathered, my particular WRX was equipped with a CVT. And while my left foot desperately searched for a pedal upon each start-up, none was to be found and I took to getting to know the WRX in an entirely new way.
Here's the thing: the 2015 WRX's CVT is trying so desperately not to be a CVT that it's a bit obnoxious. "Shifts" or rather ratio changes are harsh and overly sharp, especially if Sport# is activated via the steering-wheel mounted buttons that control Subaru's SI-Drive (only available with the CVT). While paddle shifters on the steering wheel are standard, the lagged shifts that roll over from one to another are more despicable than pleasing to use.
It wasn't all bad though, the linear power with which the 2015 Subaru WRX rockets forward is awesome, and the sharp and precise throttle response is a welcome change to some of the lazier pedals out there. Steering is much sharper and spot-on, tight and contained. The entire car feels better put together and just overall tighter. Cornering is handled with ease, body roll is near none and the WRX goes precisely where you want it to go, no matter how quickly you want it to go there.
The 2.0L 4-cylinder is plenty powerful, and I'd venture to say the only advantage the STI has over the WRX is better brakes (and the fact that it's only available with a stick shift #savethemanuals).
Inside and Out of the 2015 Subaru WRX
Yes. So much yes. The new exterior design of the 2015 WRX is stellar. Subaru took the Rex back to its aggressive nature, where it should have always stayed. Gone are the subdued fender flares and "sorry, I'm a bit fast" front end, replaced with a "I'll eat smart cars for lunch" front fascia. While I do wish the hood scoop was a bit more pronounced (think '04-'05 STI height), the overall exterior of the '15 WRX is mint, and pretty damn sexy.
Inside, it's standard Subaru fare, which means you shouldn't expect too much. Materials are sufficient but not luxurious by any stretch of the imagination. Buttons and centre-stack set-up is simple and straightforward; and don't expect an armrest. There ain't one. Front seats are supportive and sporty, but comfortable.
The backseat is plenty spacious and installing my son's seat was a breeze. The door opening on the 2015 WRX is much larger than previous gens, which makes putting him in and taking him out that much easier.
Comparing the 2015 Subaru WRX
The WRX has some interesting competition, all of which are as cult-driven as the Subaru: VW GTI, Civic Si, and even the Ford Focus ST. Subaru lovers will always be Subaru lovers, and so the WRX will live on.