Used Aveo will appeal mostly on price
Chevrolet Aveo & Aveo5 : Used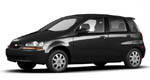 History/Description:
Chevrolet recently launched the
Sonic
– a compact car designed to battle the best in the market. It's available with 2 engines, 2 body styles and is North-American built.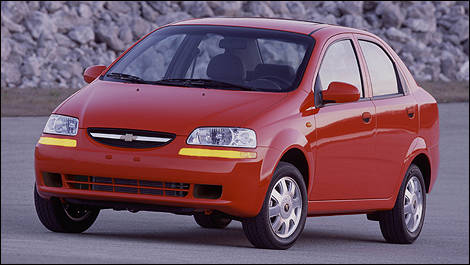 2004 Chevrolet Aveo (Photo: General Motors )
That latter point wasn't always the case with the automaker's entry-level car, though.
The
Chevrolet Aveo
has now bowed out of the market to clear room for the Sonic, but the Daewoo-based, Korean-built compact represented Chevrolet's small-car offering for years.
The last generation of this machine was available from 2004 to 2011 inclusive, and included sedan or hatchback variants. All got a 1.6L 4-cylinder with 103 or 108 hp. All were front-wheel drive. Four-speed automatics or 5-speed manuals occupied the transmission department.
Note that Aveo's engine was tweaked slightly in 2010 for a hair more power and a slight improvement in fuel mileage.
Look for features like folding rear seats, remote access, power accessories and cruise control. Alloy wheels and fog lamps were on board for more visual flair too, depending on the model in question. Air conditioning, a sunroof and
OnStar
were also available. Note that the LS models were more basic, while LT models were more loaded.
What Owners Like:
Most Aveo owners speak highly about surprising levels of interior roominess, low operating costs, relative fuel efficiency and responsive steering. Stereo performance, handling and acceleration are also rated highly.
What Owners Dislike:
Cheap interior trim, a light or 'flimsy' feel, soft suspension, cupholder size and placement and easily-chipped paint round out the most common complaints. Some owners wish for more comfort from the seats and smaller blind-spots as well.
Common Issues With A Used Chevrolet Aveo:
Numerous instances of broken timing belts have been reported by owners online – so be sure the timing belt on the model you're considering isn't overdue for a change. If it snaps and fails while you're driving, your trip will stop dead in its tracks. A timing belt is a part that needs to be changed pre-emptively ahead of failure to keep your engine running. Note that this problem seemed more common on earlier models.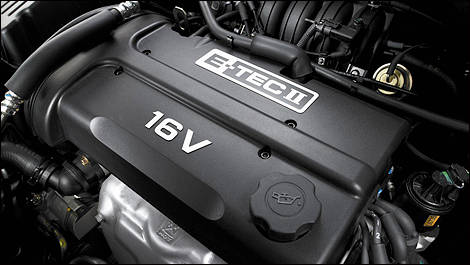 2008 Chevrolet Aveo (Photo: General Motors)