Mostly minor issues for sporty and compact last-generation IS
Lexus IS : Used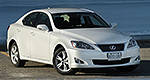 Model:
Lexus IS : Used
Vehicle Type:
Sport Sedan
The Verdict Of A Used Lexus IS:
Though some issues have surfaced, most of them seem minor and low-volume in nature. The model you should most look at in the IS linep is likely an
IS 350
with lower mileage that's been subjected to a going-over by a Lexus mechanic, or one bought as part of a certified pre-owned program.

Price:
Look for pricing from about $15,000 to $20,000 on an earlier (2006) model with reasonable mileage and in decent condition. Newer (2012 or 2013) models with low mileage will range from about $37,000 to beyond $50,000 depending on equipment.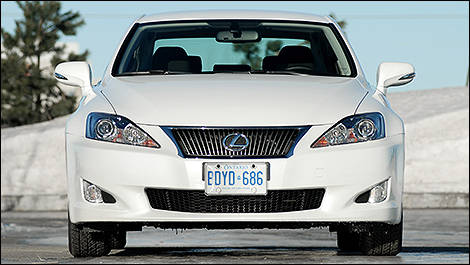 Photo: Matthieu Lambert

What Owners Like About The Used Lexus IS:
Tight handling and steering, plenty of power from the big V6, smooth performance from the small one, and pleasing, confident all-season traction with AWD were among the most commonly praised attributes of the last-generation Lexus IS. Interior quality is also highly rated, as is the up-level stereo system.

What Owners Dislike:
Common gripes include limited headroom and rear-seat room, meaning the IS may not be ideal for larger drivers or families. Other complaints include the requirement for premium fuel, a dated interior design, and dated navigation system.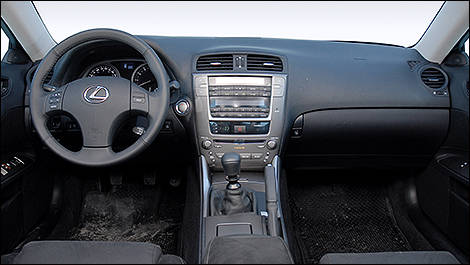 Photo: Matthieu Lambert


History/Description Of The Used Lexus IS:
Available with one of two V6 engines, rear- or all-wheel drive and a host of premium features and packages, the last-generation Lexus IS was designed to give comparable sedan models from BMW and Mercedes-Benz a run for their money.
Look for a 2.5L V6 with just over 200 horsepower, and a 3.5L V6 with just over 300. The Lexus IS 250 houses the smaller engine, and the IS 350 the bigger one.
All Wheel Drive (AWD) was available with either powerplant, depending on the year in question. Non-AWD models with the smaller engine are available with a 6-speed stick, and all models with either AWD or the 3.5L powerplant came with automatics.
Feature content included available climate-controlled seats, navigation, a Mark Levinson stereo system, push-button start, Bluetooth, a sunroof, and xenon lights.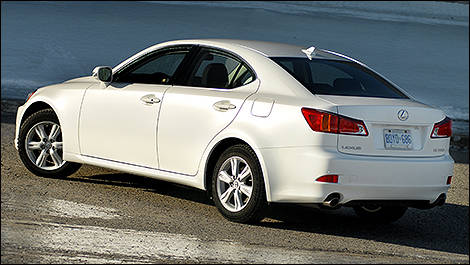 Photo: Matthieu Lambert
Common Issues With A Used Lexus IS:
Some inconclusive reports of high oil consumption, particularly with the 3.5L engine, have surfaced online. Though the cause is vague, shoppers are advised to check the oil level and condition in the model they're driving. Remember to check the engine oil according to the instructions in the owner's manual.
A check-engine light possibly accompanied by poor performance or "stuttering" from the engine is likely the result of a bad engine control sensor. Be sure to diagnose any check-engine lights that may be illuminated.
Ensure both remote keyfobs work properly, and ensure the Lexus IS you're considering starts up quickly and strongly. Some reports have been made of a dead or dying battery affecting the push-button start system, or the IS's ability to stay running.
Because of a recurring issue on Lexus' 2.5L V6 relating to carbon buildup, many owners suggest opting for an IS 350, with the 3.5L engine. Other than a recall for valve-spring replacement on 2006 to 2008 models, this is said to be the more reliable engine. Your local Lexus dealer's service centre can look at the used IS you're considering to ensure it's up-to-date on any recall work.