Not a looker but infinitely loveable
2012 Honda Civic EX sedan Review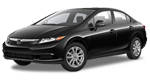 I've just returned from taking this week's tester on a good highway run, and I'm more impressed than I expected to be. Sure, everyone knows the
Honda Civic
is a highly popular, no-nonsense compact economy car, but that doesn't mean they know how refined and efficient this plebe has become.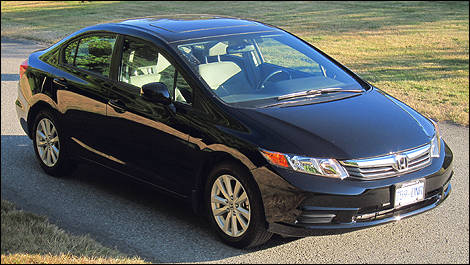 The new Civic may not be the looker in the field of leading compacts but it's certainly a competitor in every other way. (Photo: Rob Rothwell/Auto123.com)
Civic is redesigned and re-engineered for 2012
A number of aspects of the new Civic stand out to me in a big way; regrettably styling isn't one of them. This isn't an unattractive vehicle by any stretch, but it's not a looker. What it is arguably is aerodynamic — just look at the rake of the windscreen.
Clearly the ability to slice through the wind with eerie silence was the objective while winning hearts was secondary, and that's OK with me; there's tremendous benefit to be gained by cheating the wind out of the friction it would like to impose.
Enlarged cabin – improved functionality
The Civic's larger cabin has undergone a minor redesign; I came to particularly like the split-level instrument panel over the course of the week. Don't get me wrong though, I don't really like the arrangement from the perspective of aesthetics but from a functionality perspective it works remarkably well.
The large tachometer beneath the upper panel is easy to read and clearly visibly within the arch of the steering wheel. Other pertinent readouts, such as the digital speedometer, are viewed above the steering wheel in an unobstructed sightline.
Cabin occupants get a bit more space, and Honda has also added more technology and driver-selectable settings to personalize the Civic, most of which are performed through its new intelligent Multi-Information Display screen, or i-MID for short.
I'm not sure that an additional screen was the best use of Honda's time in revising the Civic's cabin.
The updated cabin is well constructed and nicely appointed; however, it continues to suffer from large expanses of hard plastic surfaces. Honda needs to soften the shell-like surroundings further in order to match the craftsmanship and materials we're seeing from others, such as Ford and Hyundai.
Plastic issues aside, the cabin is well constructed and surprisingly roomy for this segment. Worth particular mention is the unimpeded visibility the driver enjoys. Quarter side-windows enhance forward and side visibility significantly, one of the small attributes of this tester I really appreciated, especially when approaching a turn.
Another aspect of the 2012 Civic I appreciated was its petit mill.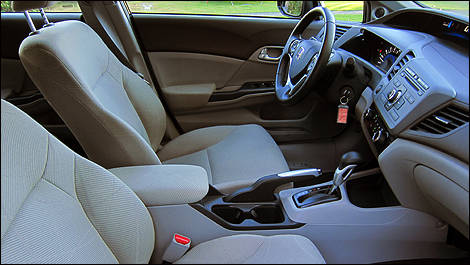 The cabin is well constructed and surprisingly roomy for this segment. (Photo: Rob Rothwell/Auto123.com)
By Rob Rothwell,