The best new car deals in Canada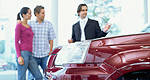 Unhaggle.com recently compared the various new car deals and incentives offered by automakers in Canada.
Unfortunately, you won't find any pickup trucks, high-luxury vehicles, and limited-edition models. Moreover, if an automaker has two or more vehicles in the top 5, only the one with the largest incentive is mentioned.
So, if you're looking to buy a new vehicle this winter, check out these deals:
Top 5 incentives on family vehicles

1) 2012 Hyundai Genesis - up to $10,000
2) 2012 Nissan Pathfinder - $9,000
3) 2013 Chrysler Town & Country / Dodge Grand Caravan - up to $8,500
4) 2012 Mazda CX-9 - $7,000
5) 2012 Ford Edge - up to $6,500


Top 5 incentives on entry-level luxury vehicles (under $60,000)


1) 2012 Volvo S80 - $10,000
1) 2012 Lincoln MKS - $10,000

3) 2013 Acura MDX - up to $8,500

4) 2012 Infiniti G37 sedan - $6,250

5) 2012 BMW 3 Series - up to $5,000
Source :
Unhaggle.com
By Auto123.com ,