2002 Chevy Bel Air Concept - Looking Back to Chevy's Glory Days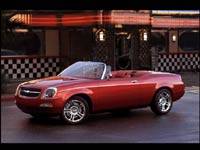 While most liked where Chevy was going with its Bel Air Concept convertible there were rumblings of disappointment over its general exterior styling after it was unveiled at the 2002 Detroit auto show. After all, to designate anything a Bel Air it had better be gorgeous, and the 2002 concept simply wasn't.
Not a trace of chrome embellishes the stark design, while the front end looks almost truck-like. On the positive its signature beltline kick-up is attractive and overall the car's relatively tall profile translates into a higher driving position than most modern cars, conceptually resulting in the comfort, visibility and ease of entry and exit common with the cars of the 1950s. I've got to admit to liking the gas filler cap located in the taillight too.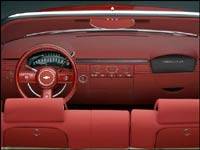 "This is not just another convertible," stated Wayne Cherry, GM's Vice President for Design. "The Bel Air is about embracing the essence of those mid-50s Chevys - the 'tri-5s' - in a contemporary way. This car is the right size for America, just like the originals were in the 1950s."
He is right about the size. Its 4,852 mm (191.0 in) length is just a 16 mm (0.6 in) longer than the current Chevy Malibu while its 1,819 mm (71.6 in) width is 56 mm (2.2 in) wider, but still narrower than the latest Impala. While the Malibu is slightly taller than the Bel Air, the latter being a convertible, the concept has a longer wheelbase.