2003 Hummer H2 - Tread Lightly? Yah Right.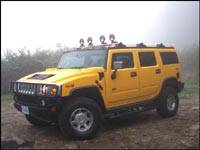 Want to get noticed? There's a few surefire ways. The time-tested streaking method always gets people looking, but if you're inching up in years like me you'd probably get more laughs than lust, not the optimal result. What about finding a little arm candy to get the women talking and the men jealous? That always works but can cost more than a sports car or really cool SUV. Hey, that's the ticket. Get a really awesome car and then the arm candy comes free!
OK, I'm having a little fun with this one but there's often more fact to the scenario I've staged than fiction. No matter how desperate your need for attention might be, the Hummer H2 is the perfect vaulted pedestal to satisfy even the most ardent exhibitionist. Absolutely everyone looks in your direction no matter where you're going. The notice-me-yellow paint scheme, bright metalwork and radical H1 inspired utilitarian shape assures that. And even if neck-snapping responses from passersby were its only attribute, many would pay the $70,745 price of entry. But there's more to this massive SUV than just show.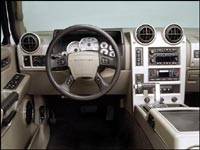 How about go? Hammer the electronic drive-by-wire throttle and it jumps off the line with confidence, if not neck-snapping velocity. It clicks through the gears without commotion as 316-hp and 360 lb-ft of torque available in its 6.0-L OHV V8 makes light duty of its 2,909 kg (6,400 lb) curb weight.
Light duty? As if. Even compared to the mammoth H1 the H2 is hardly a lightweight. It hits the scales at just 338 kg (754 lb) shy of the mighty H1 wagon's 3,247 kg (7,154 lb) curb weight. Also, while the H2's 3,118 mm (122.8 in) wheelbase is 184 mm (7.2 in) shorter than the SUV of SUVs the new model is a full 134 mm (5.3 in) longer, at 4,820 mm (189.8 in). At 1,977 mm (77.8 in) tall, it's also 72 mm (2.8 in) higher than the 1,905 mm (75.0 in) H1 wagon.