Long-Running Premium Crossover Shines On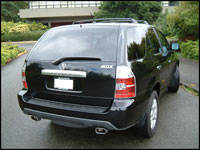 The roomy MDX will seat seven passengers thanks to its four doors and standard-equipment third row seat. (Photo: Rob Rothwell, Canadian Auto Press)
Although the 2005 Acura MDX is essentially unchanged from 2004, it continues to be a high achiever in the mid-size, premium SUV market. In fact the MDX has changed little since its introduction in 2001, which would suggest that Acura got it "right" the first time- something that is rare in the auto industry. Despite getting it "right" in so many ways, I am not sure they got it "right" design-wise as I have never been enamored by the nose job on the MDX. From day one I found it a little weird, as if it was intended to mimic the bow of a ship. Apart from its questionable marine imagery, the MDX projects a clean set of lines dominated by plenty of glass and sedan-like "C" pillars.
The roomy MDX will seat seven passengers thanks to its four doors and standard-equipment third row seat. But beware each row of seats become less comfortable as one migrates rearward. Sliding into the over-stuffed leather front seats is almost blissful. They offer near infinite power adjustments and are heated. Thanks to first-rate padding and support, stiffness and fatigue are minimized during long stints behind the wheel. Jumping back a row places less fortunate derrieres into a three-position second row bench- a move accompanied by a significant sacrifice in space and comfort. Legroom here is decent as is headroom, but given the premium stature of the MDX, the seating feels flat and under-cushioned. Lastly, the cramped third row seat is best reserved for children. Sure an adult can squeeze into it, but chances are he or she will end-up whining like a child before long.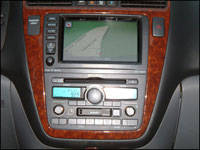 Due to the splitting of the HVAC controls, some adjustment time is required before usage becomes intuitive. (Photo: Rob Rothwell, Canadian Auto Press)
An aspect of the MDX that I particularly admire is its interior build quality. High-grade materials and smooth functioning switchgear abound in the accurate, tightly assembled cabin. Something I found odd though is the placement of HVAC controls, which are split among two locations on the imitation wood-faced center stack. A small grouping set high on the center stack control a portion of the HVAC functions while the fan speed, mode and A/C buttons are positioned much lower on the center stack, beneath a large LCD screen. Due to the splitting of these controls, some adjustment time is required before HVAC usage becomes intuitive.